Author: Marie Barnes
SEO is not dead. It never will be! Not as long as Google exists and we perceive information visually. Not through a chip built in our brains however, no matter how much Elon Musk would like that. For this reason, the question of how to choose keywords for SEO still stands. So, here are some tips on how to do it right.
1. Choose Keywords for SEO by Brainstorming as Many Queries as Possible
In fact, you already know almost everything you need for a successful strategy. You are aware of your business, your product, and your customer. Therefore, you know best how to find you online. To do this, you should stop and think about what phrases your potential customers can use to find you.
Think like a client. For a business owner, it is very simple and even intuitive. Think of all the search queries that you believe people are using to find you and then assess their relevance with some SEO tools.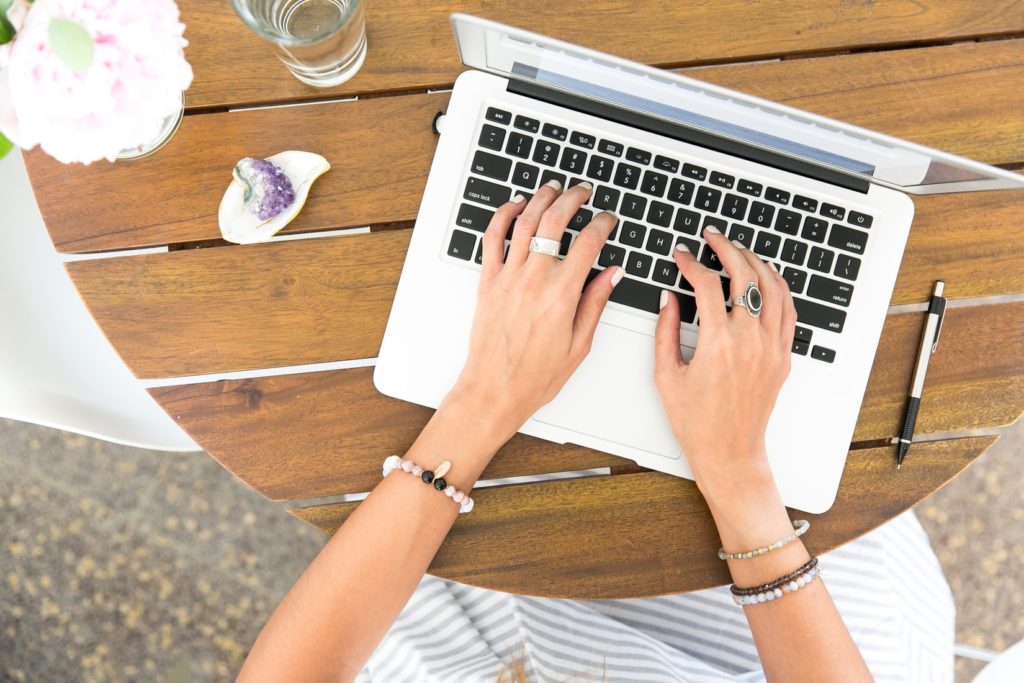 2. Look at What Your Competitors Are Doing

Keep your friends close but your enemies closer!
Know your competitiors better than anyone else – their strategies, keywords, everything! Look at what your competitors are doing and record their actions as well as common and different features.
You can use Myposeo's Content Analysis tool to find high-traffic keywords from competitors' content, and add them into your own. Alternatively, you can even visually assess their headings, page titles and paragraph headings.
3. Use SEO Keyword Research Tools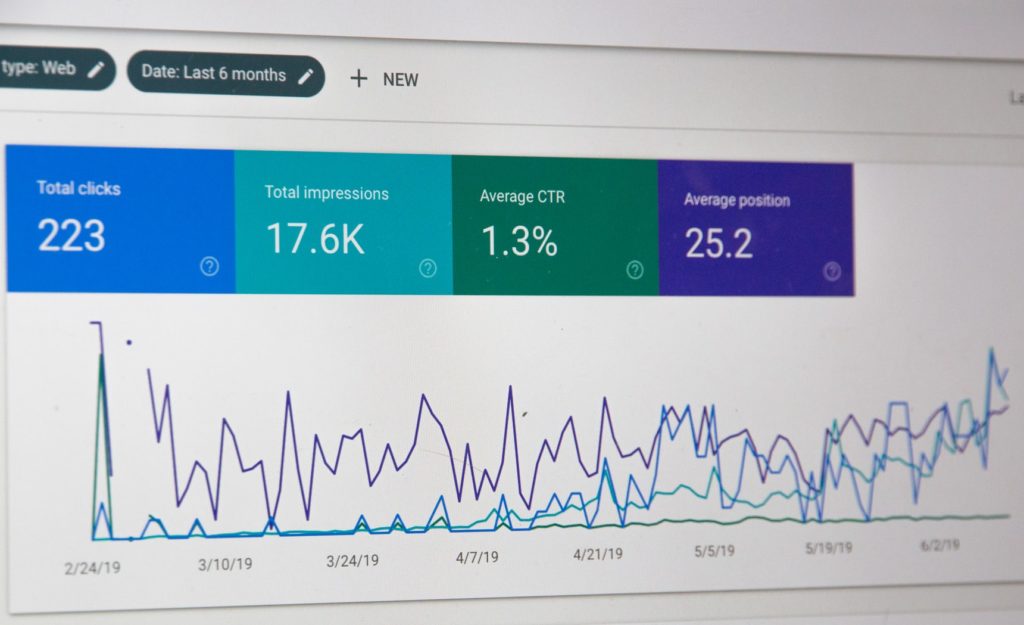 It is easy to get overwhelemed by the number of SEO keyword research tools available. As a rule of thumb, free services don't give a significant result. They will always limit you to the number of queries you can see or the number of search results. Google's Keyword Tool may perhaps be the only exception but it is more suitable for professional use.
Alternatively, Myposeo's Keywords Master works great and gives deeper insight than other tools. The tool automatically generates keyword ideas, but best of all, it shows the user's intentions when using a specific keyword phrase! Find out more about how to use it here.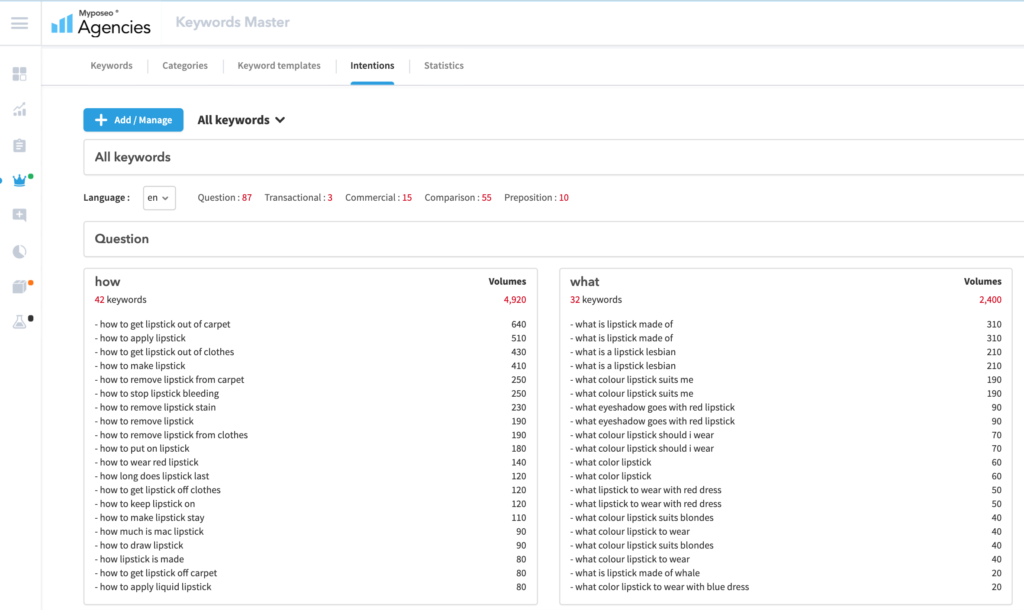 4. Classify your SEO Keywords

If your site contains more than one page, you definitely need to classify your keywords and categorise them. For example, some key queries of yours may be:
location-based (pizza in London)
indicating intent (order pizza in London)
with a question (how (where) to order pizza in London)
with reviews (pizza in London reviews).
Moreover, you can still add a category of keywords that are potentially suitable for use on blog posts. For example, "How to Make Pizza Dough at home".
The Keyword Master is actually great for this as they auto-categorise your keywords by topic and search intention!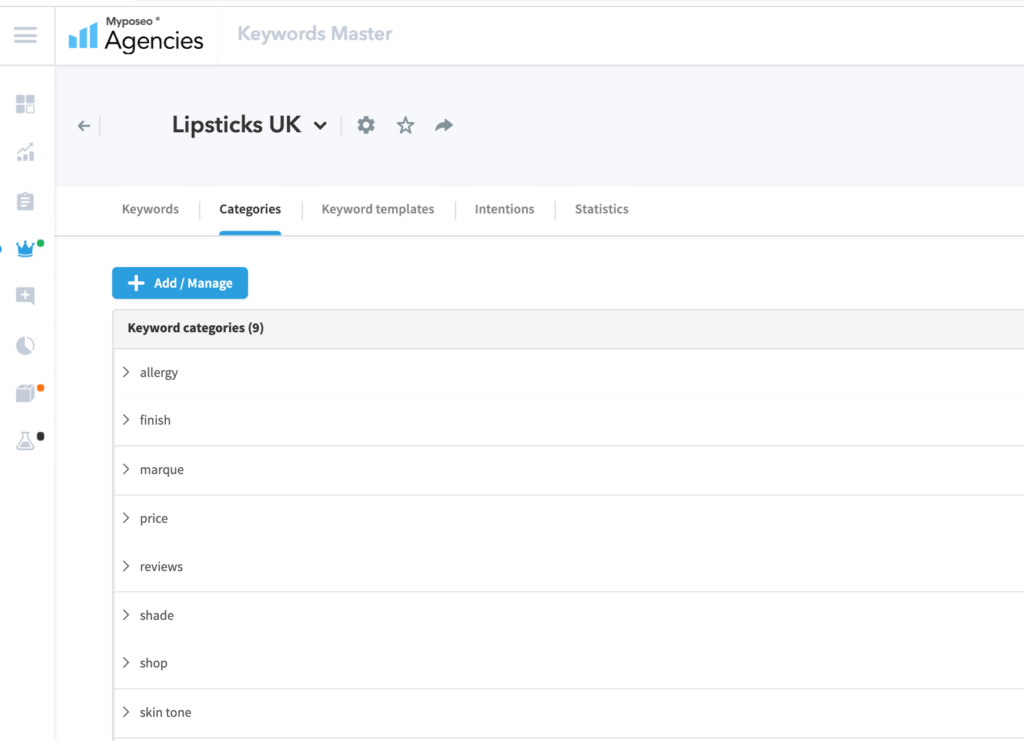 5. Determine the Perfect Amount of Keywords You Need per Page

There is no recipe to determine the perfect number of keywords per as there is no optimial length of a post or colour of a button that better converts leads in comparison to others. In practice, it turns out that everything needs to be tested, this applies to your key search queries as well.
An important rule: having a lot of keywords doesn't necessarily mean you will get a good result. In addition, search engines will not be able to figure out which of the queries are most suitable for indexing your site.
We recommend that you stick to the middle ground and follow this algorithm based on a 1000-word text page:
Use around four high-frequency words for wider coverage
Incorporate 4 to 5 medium-frequency search queries that should reflect the essence of the page
Use 4 low-frequency queries to attract the most specific users in less competitive environments.
6. Use Long-Tail Keywords
Think of the what your business stands for and brainstorm ideas of long-tail keywords that match it directly, and add them to your content. By doing so, you attract users who know exactly what they are looking for. The search algorithm is similar – firstly, think for yourself, then use specialised tools. Ensure you check the statistics of long-tail keywords to understand what kind of coverage they give you.
7. Take Voice Search Into Account

It is expected that in 2020 half of the search queries will be done using voice search. This means that the approach to how consumers look for products, services, and information is changing. Therefore, it is necessary to change your approach to SEO as well.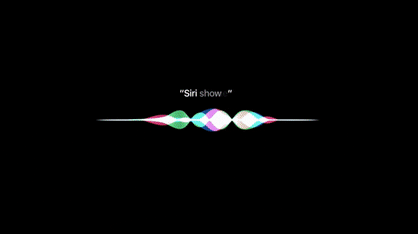 The main difference between voice and traditional search is that with voice search, the user receives only one answer. In addition, voice searches are identical to our everyday speech. It's likely that users will not say "London pizza", but will use full sentences and coloquial slang when searching.
Google will also respond differently and show a short snippet of three lines or a list. Keep this trend in mind when planning your SEO strategy and finding keywords. Make sure you know your customer! Understand what their search intention is so they will find your business online based on what they say,
8. Get Some External Links

The thing is, you can create a powerful SEO strategy and write tons of useful content, but that's not enough. What's really useful is backlinks, which are very much appreciated by Google.
Of course, you have to wait long enough for your content to rise naturally in the search result. If its good and you're lucky, it might only take several months, which is still long.
But since it is necessary to develop a business here and now, it always makes sense to strengthen your domain credibility with backlinks. Find out more about creating an effective backlink strategy here.
You can use Linksmanagement that will let you increase your backlinks smoothly and organically, just as Google requires. Additionally, the sources that will contain a link to your project will also have high credibility and good traffic.
To assess your backlinks, you can use MajesticSEO, one of Myposeo's trusted partners! If you already have a Myposeo account, you can get your backlink data from MajesticSEO directly!
9. Do Not Forget to Analyse

SEO strategy doesn't have to be static. Google's algorithms are changing, the way users look for information, and your product can also change. Therefore, it is necessary to track the reaction of Google and users to each of your keywords using analytics systems.
In addition, trends also change. At some point, it is necessary to include trending keywords in your content. For example, in the past few weeks, almost everyone has begun writing about the Coranavirus — and getting good feedback. This is a good example of how trends work.
Conclusion

The most important thing that can be said about choosing SEO keywords for your SEO strategy is that you need to ensure you match your users' intentions. A user-centric approach is the best way to go.
In addition, it is necessary to incorporate keywords attracting different amounts of traffic as well as analyse the success rates of a particular keyword.
Marie is a Marketing Communication Manager at bestforacar. She is an enthusiastic blogger interested in writing about technology, social media, work, travel, lifestyle, and current affairs.

Marketing Assistant UK @myposeo