Unlocking Google Analytics' not-provided information with Myposeo
For nearly 3 years, the web analytics tool Google Analytics has not shown us the requests (keywords) typed by internet users into search engines that led them to our sites. This is extremely compelling for many reasons, mainly because this lack of visibility does not help with Search Engine Optimization (SEO).
We invite you to discover how myposeo and its tools can help you to unlock the not-provided information and find keywords that will generate traffic.
What does "not provided" mean in Google Analytics?
When a web user uses a search engine (Google, Bing, Yahoo) to type a request (e.g: buy a car) with the result that he visits a website, it is not always possible to track the exact request he typed to lead him to your website. "Not always" because alternatives to Google exist that do you have an overview of these requests.
In Google Analytics, when you want to figure out which keywords attracted hits, a shortlist can be displayed. However, the rest is displayed as "not-provided".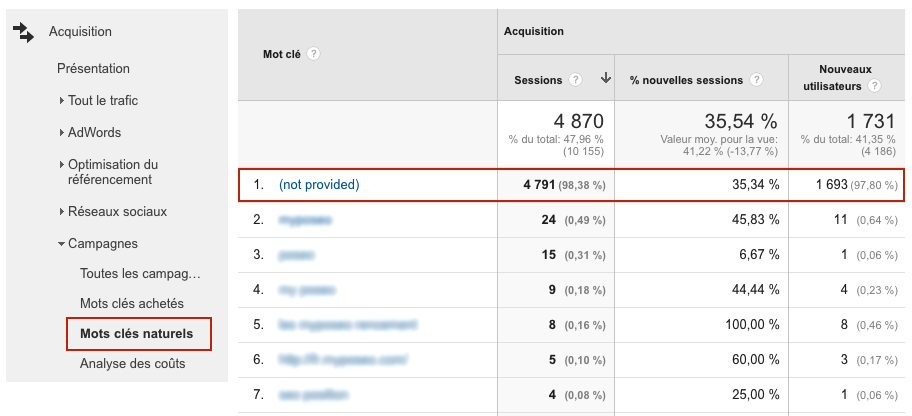 Google justified this decision citing security reasons but also because SEO is not a priority for Google, who would rather sell its Adwords to advertisers. The ranking of results is naturally generated by Google's algorithm and will not be changed or not influenced by SEO tricks.
Why is it annoying ?
SEO can be a very important tool in generating traffic. It is important to know the number of visitors a website receives and to be able to determine their origin. Hence, this is the reason why it is much more complicated to improve performances of such a tool without adequate visibility.
Google Analytics displays the origin of visits, but in the case of SEO, the fact that keywords are hidden is a barrier to optimising the popularity of the site with certain specific expressions and keywords. If the expression "buy handmade Persian carpet" generates 10 sales per month, but if you did not identify it (because you couldn't), It could prove to be a missed opportunity for your business and it could have a real impact on your turnover.

It is also more complicated to focus your content strategy for SEO if you have no idea about which keywords generate the most traffic toward your website.
Some information in Google Search Console
Google Search Console (formerly Webmaster Tool) is a free available tool from Google to allow the person in charge of acquisition or the technical manager to have additional data on the indexation and search traffic from Google Analytics. To make the most out of it, you should configure it well and extract data regularly.
Google Search Console will provide you with a list of keywords (requests) that allowed your site to generate impressions (display your results in Google for a research) and clicks by users. The Click Through Rate (CTR) lets you know the share of clicks obtained by your ad on the results page and the average position of your website when a user makes this search.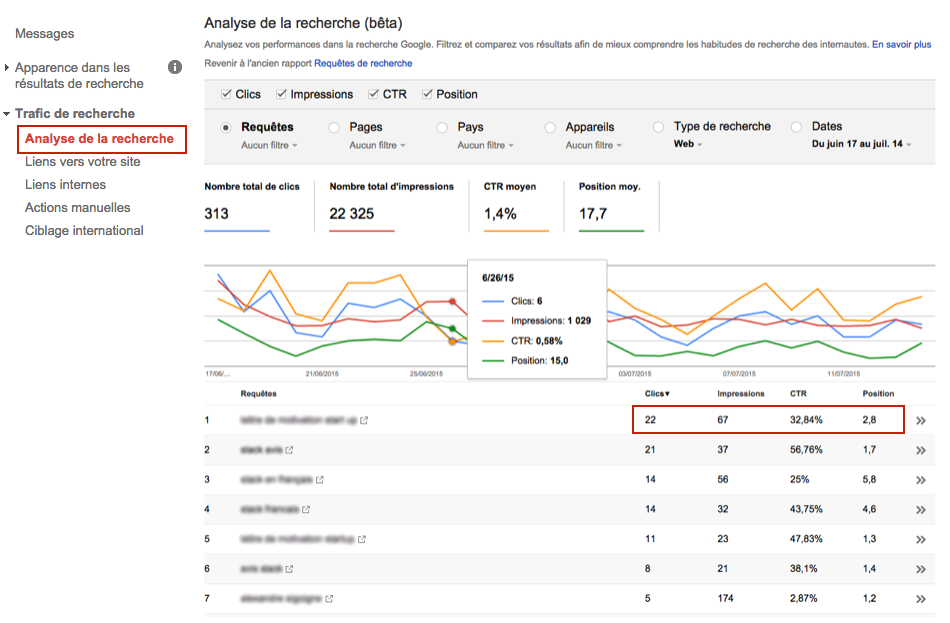 The main drawback of Search Console, even though the tool is improving all the time, is that history is only accessible up to three months and the number of keywords is limited. You don't know if your website continues to perform on the request and you aren't able to see the change in your average position or your click rate performance. That's why a rank-tracking tool comes in handy to allow you to go further.
How myposeo can help you to unlock not-provided information?
Keywords already positioned (SEM analysis)
The SEM Analysis tool, built by myposeo, provides you with a detailed list of keywords through which users found, or will find, your site with search engines. The myposeo database offers 15 millions keywords ranked by search volume for which we get full results from the front page at least once a month.
If you register your website and visit the "ranked keywords" tab, you will find all known keywords by myposeo. This will help you display your ads on the front page of Google. You will also be able to find an estimation of the monthly traffic these keywords might generate for you.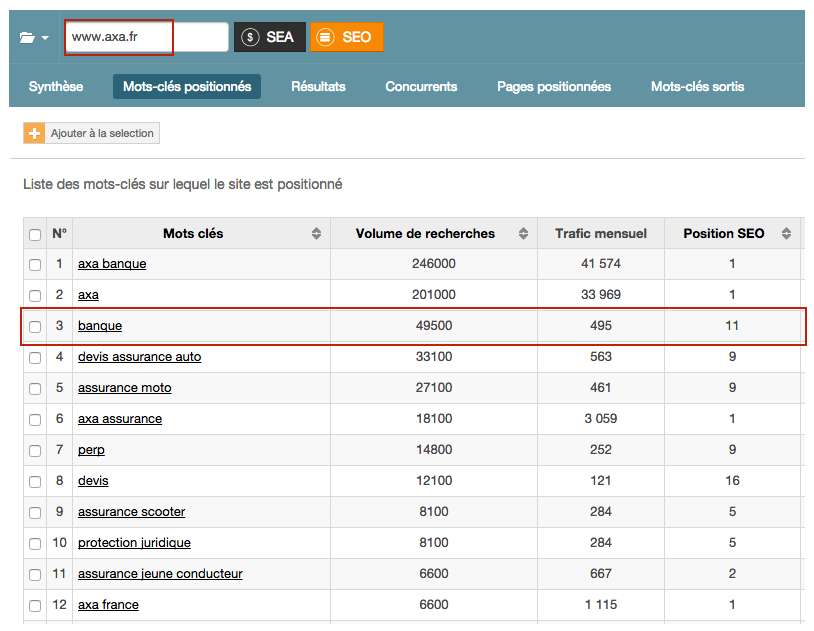 This tool allows you to get a glimpse of the requests where your website is shown and also provides information about the traffic it's generating. To filter this overview, you need to follow those expressions.
Note that SEM analysis has over 28 millions websites on the French market, you can also perform this analysis for competitor sites.
Data per landing pages
SEM Analysis is also very interesting because it lets you know which of your pages has the most ranked keywords and the traffic brought by them.

This pre-analysis can then be compared with your results in Google Analytics to check the potentially traffic. For it, it will be necessary to verify the organic traffic generated by our pages.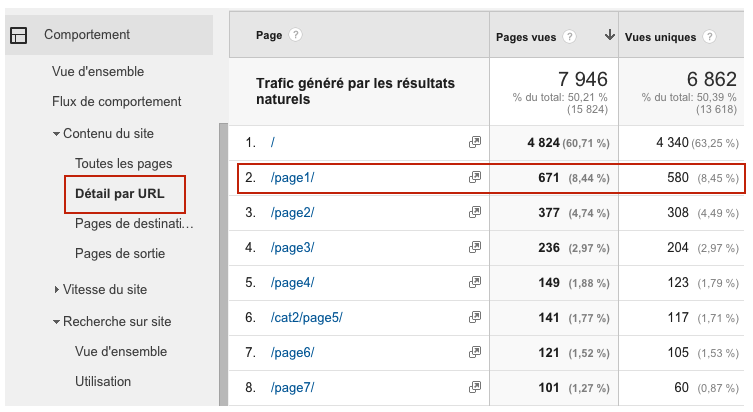 All keywords triggering the page can then be filtered by a simple click.
Rank tracking
To go further in cracking the "not-provided" aspect of Google's tools, myposeo offers a SEO rank-tracking tool. By creating a monitoring project and indicating the keywords you follow, you have the opportunity to find out the change in your position on search engines by request.
Based on what you can find in SEM analysis tool, you will be able to find out and follow the change in the SEO performance of your site. More specifically, the rank-tracking tool allows to unlock the not-provided information by calculating an estimation of traffic and by attributing these visits to your ranked keywords.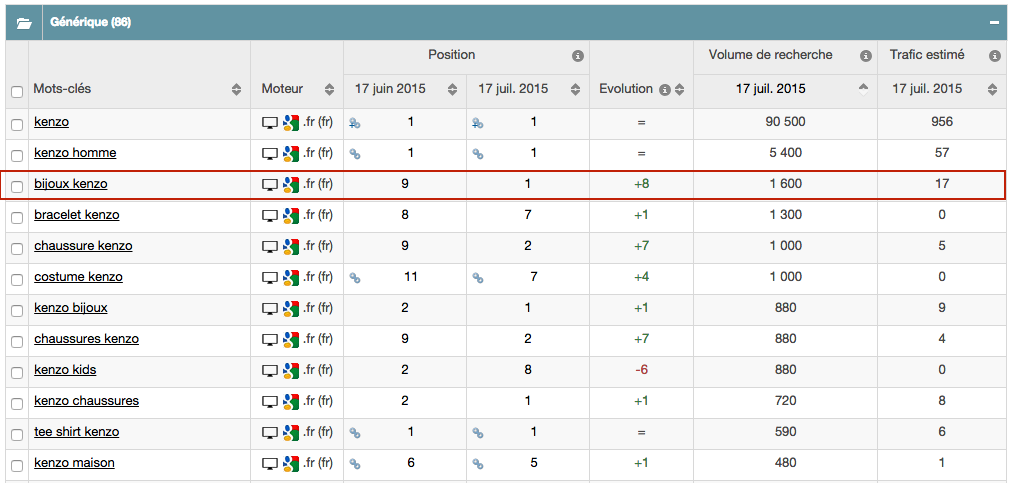 In the "Pages" tab, you have an access to the daily share of traffic generated by your keywords for each ranked pages :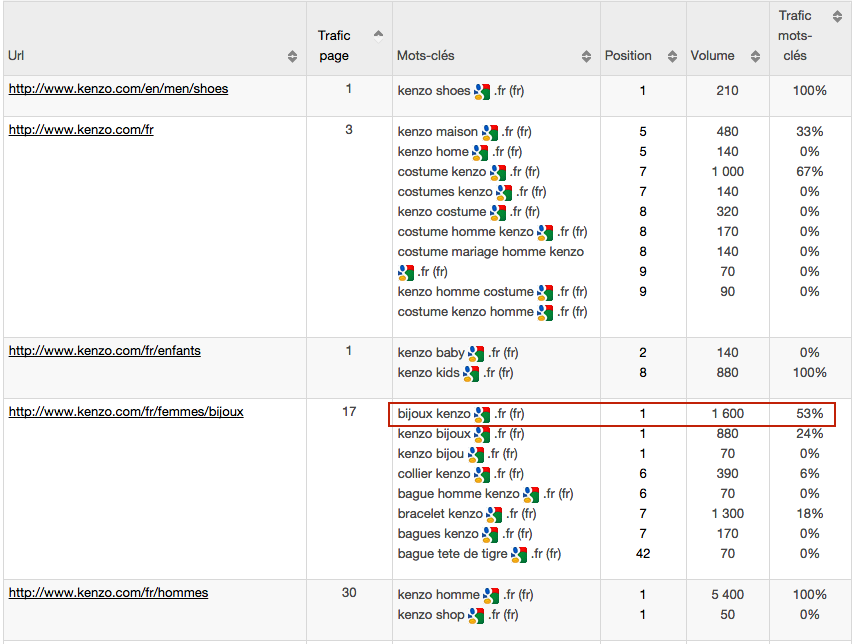 Here is the estimated traffic for the current day or the specific date range selected on the calendar. Each keywords gets an estimation of the percentage share of traffic.
Thematic classification (brand/non-brand)
The problem of many companies face is that requests containing the name of their brand are often those that generate high traffic. Myposeo offers to classify your keywords in thematic groups to obtain various statistics between your brand and non-brand keywords. Groups may also be more likely to refine the statistics you collect (generic, fold, etc.). You then obtain a distribution of the traffic between your keywords.

Traffic estimation
As its name suggests, the traffic estimation is an indicator that allows to calculate the potential volume of visits generated by the keywords based on its position. To calculate this, myposeo uses the information bellow:
search volume of keywords
ad position site
environment of the page (results in SERP)
click rate according to the position (on the basis of railing determined by myposeo).
Thanks to this tool, you can also customise click through rate (CTR) to differentiate the brand keywords out of mark (optional agency and advertisers big accounts). This can be helpful to further refine the unlocking of Google's information.
What you should know
Even if tools like Google Search Console and myposeo allow to "unlock" the not-provided information, you should be aware that you cannot possibly know and monitor 100% of the traffic-generating keywords. The point is to identify and monitor the most relevant and hight-performing ones.
The trafic estimation data are estimates and trends. The keywords will never all be clear (all version) and click rate can vary under many different configurations (type of research, composition of results etc.).
The award marks/off brand and thematic classification of your request are essentials for a precise results, particularly when you are working on several thousands keywords.
Conclusion
Once you start implementing a search engine optimization strategy, it is essential to work with tools that allow you to bring additional information to those provided for free from Google's tool . To improve your SEO, you need an overview of your positions, the traffic and your site performances.
So remember to implement the essentials tools to launch your campaign and set up alerts on the keywords that generate your traffic. And if you haven't yet done so, don't forget to check out myposeo and test it for free!