Since its launch 10 years ago, the Myposeo tool has been constantly evolving to meet the needs and challenges of SEO professionals.

Today, we are proud to announce the release of a new module that our teams have been working on for several months: the Keyword Master.

The idea of creating the Keyword Master came about following an observation and a request from our clients who needed a place to centralise their keyword lists, to auto categorise them quickly as well as be able to collect search volumes in a simple way.
What is the Keyword Master for?
To accelerate keyword search and categorisation, don't waste time in Excel! The Keyword Master is a tool dedicated to :

The collection of keywords
Suggesting keywords
The collection of research volumes
Categorisation of keywords
The detection of search intentions
Thanks to the Keyword Master you will be able to :

Generate a large number of automated keyword lists
Go to search volumes for a large number of keywords
Quickly find questions on a given topic
Find the most typed search terms in a sector
Provide market information in 3 clicks as part of a pre-sale
Restart a keyword list for an existing site, based on data from Google Search Console
How does the Keyword Master work?
1 – Creating a selection

From a list of keyword expressions, the Keyword Master will automatically search for all related keyword suggestions to enrich your list as much as possible.
Importing keywords
Several methods of importing existing keywords are available.
Manual entry (default)
Keywords imported via CSV file or directly from Google Search Console.
Data from other tools via API keystroke
The Keyword Master also takes it a step further by retrieving the keywords on which the URLs of your site are ranked.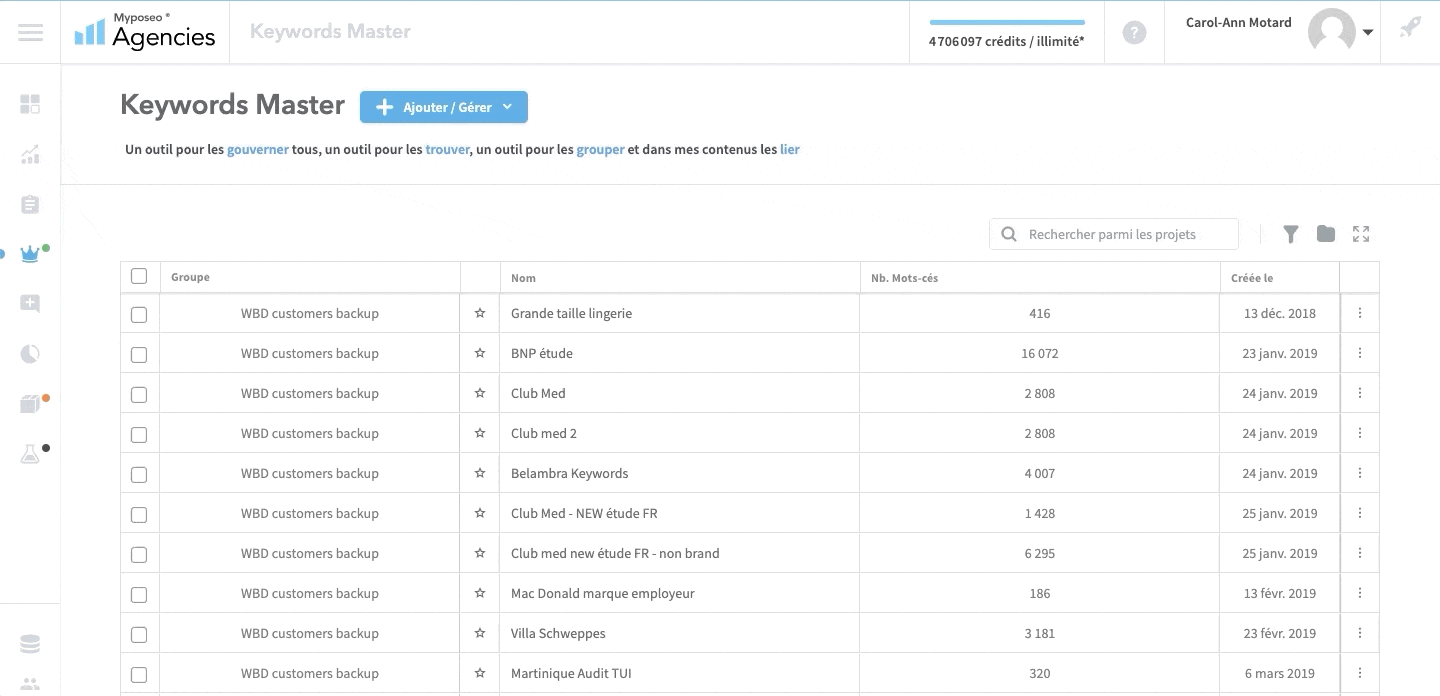 Enrich your Keyword Lists
By clicking on "Collect Suggestions", the Keyword Master will retrieve all suggestions and Google related searches to exponentially increase the size of your keyword list. Imagine going from an initial list of about ten keywords to a list of more than 10k keywords in just a few clicks.

Undeniable time saving in the enrichment of your database.

The module will also be able to collect the search volumes of a large quantity of keywords, so you can better exploit them later on and discover the search trends of your list.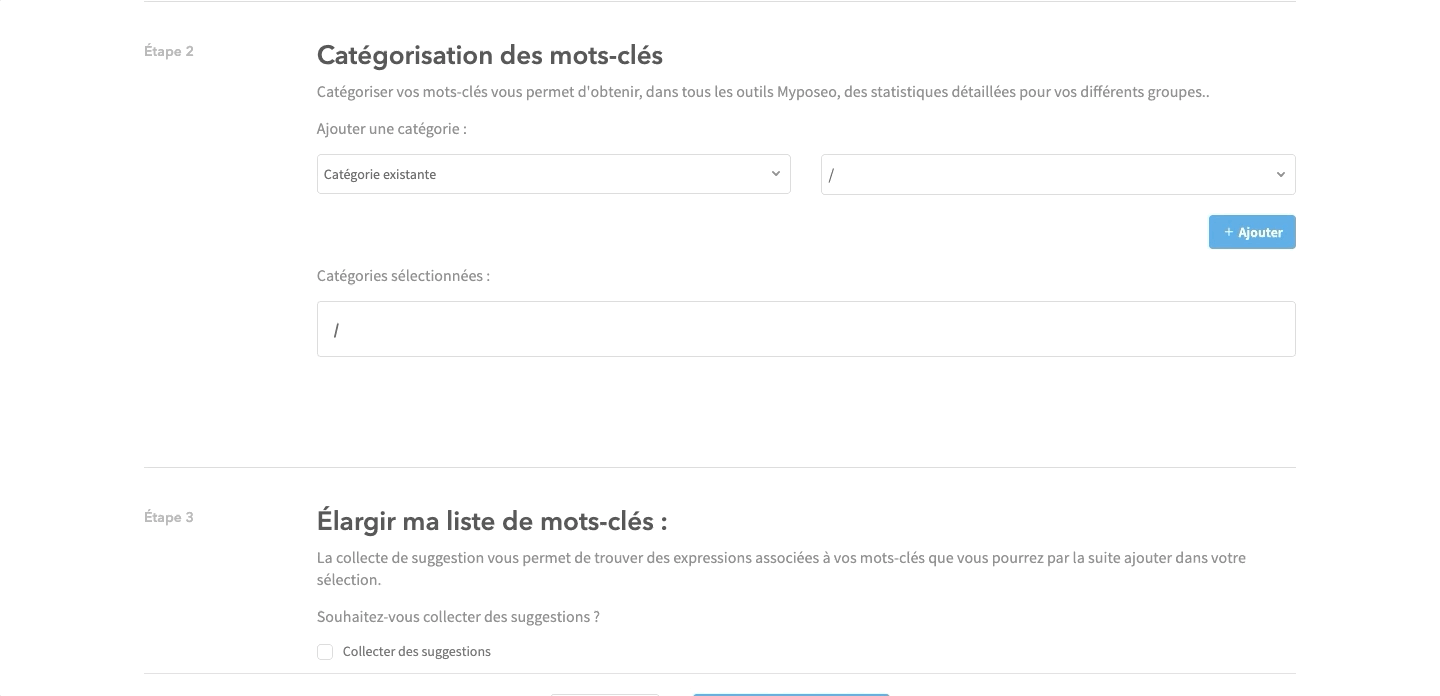 2 – Keyword Suggestions

Once the Keyword Master has been automatically "searched" for all keyword suggestions, you have the option to double check it before finally approving it. The module then displays a table containing your list of expressions with different KPIs: size, intention, search volume, trend, etc.
This verification step can be very useful when you need to complete an existing list by adding hundreds of keywords, thus avoiding having to "re-sort" your entire list afterwards.

The next step is to go and group all these keywords in different categories but don't worry, this is done automatically.
3 – Automatic and Intelligent Categorisation
Save time with our Suggestions for Keyword Auto Categorisation based on the most recurring expressions.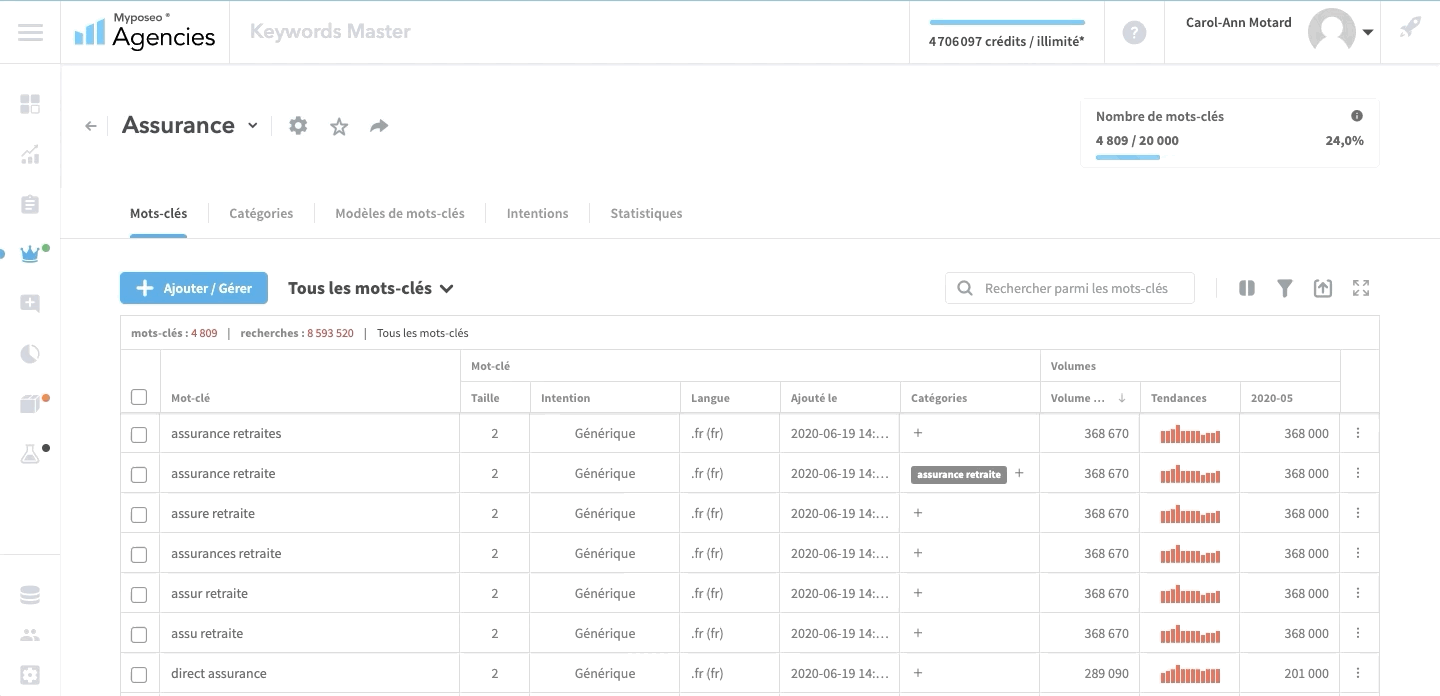 Once you have selected your categories, all keywords are then automatically tagged and grouped into categories according to their nature and subject.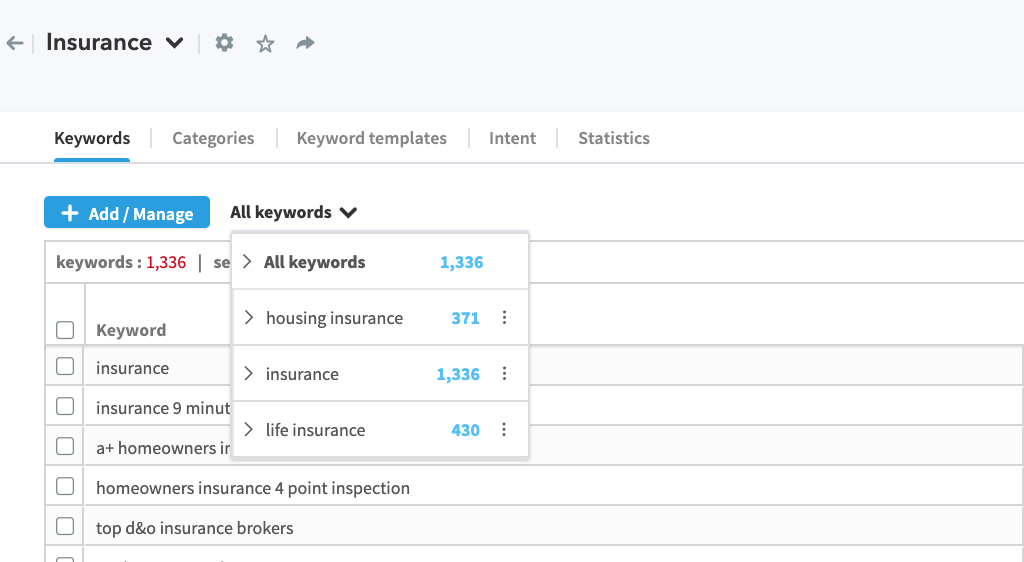 4 – Advanced functions
Macro Creation
Pre-configure certain actions to save time. The tool already offers default actions, such as "keyword cleanup" (plural/singular deduplication, accents etc.).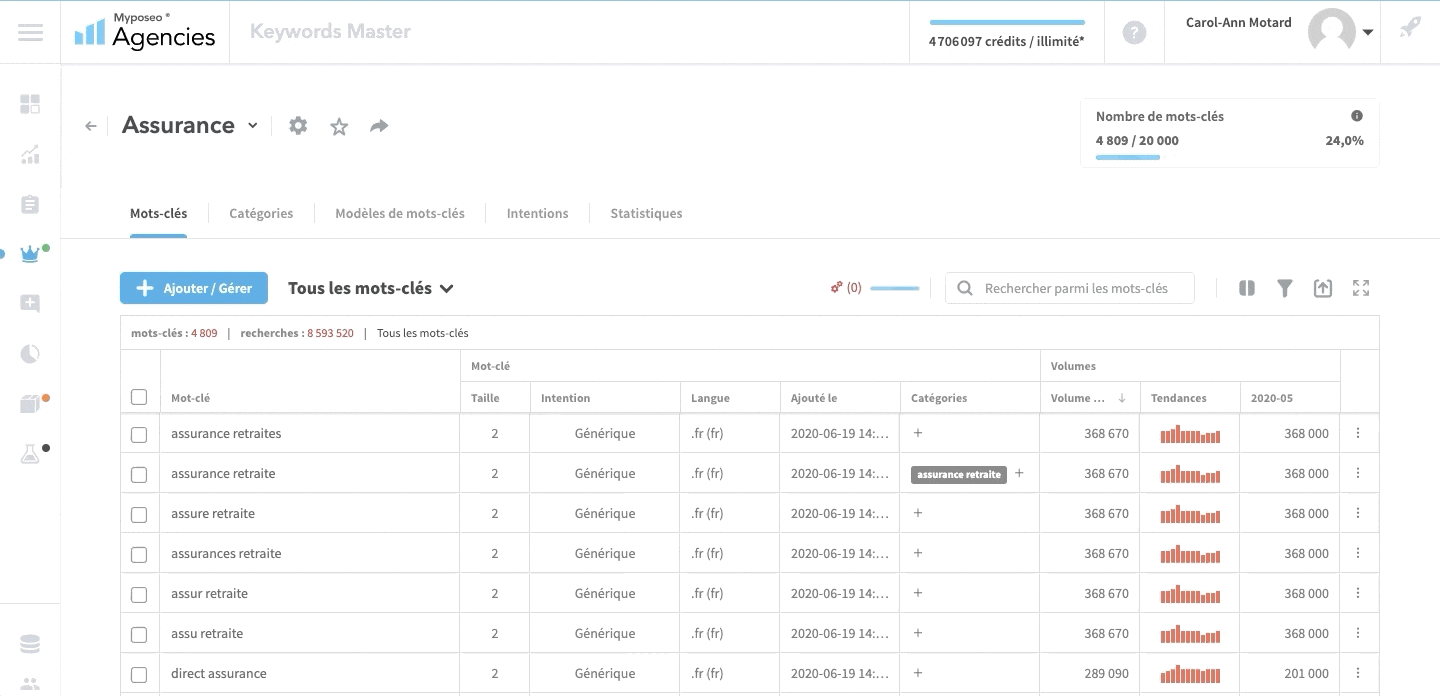 Search Intentions
Find out all the questions that Internet users ask about your topic according to the language of the keyword (Who? How? How much? etc).

Note that all intentions can be filtered by categories.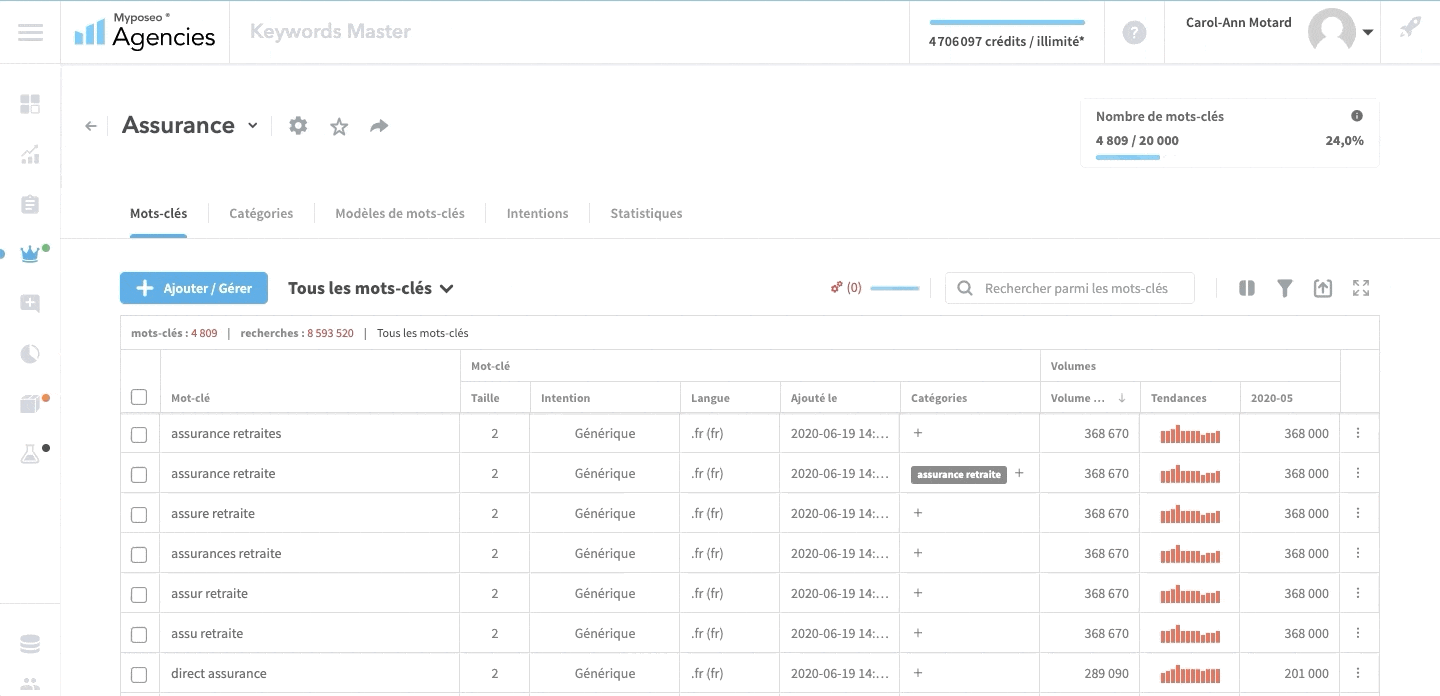 Statistics
A "Statistics" dashboard provides you with statistics on: the distribution of search volumes by category, the distribution of keywords by search intention and much more.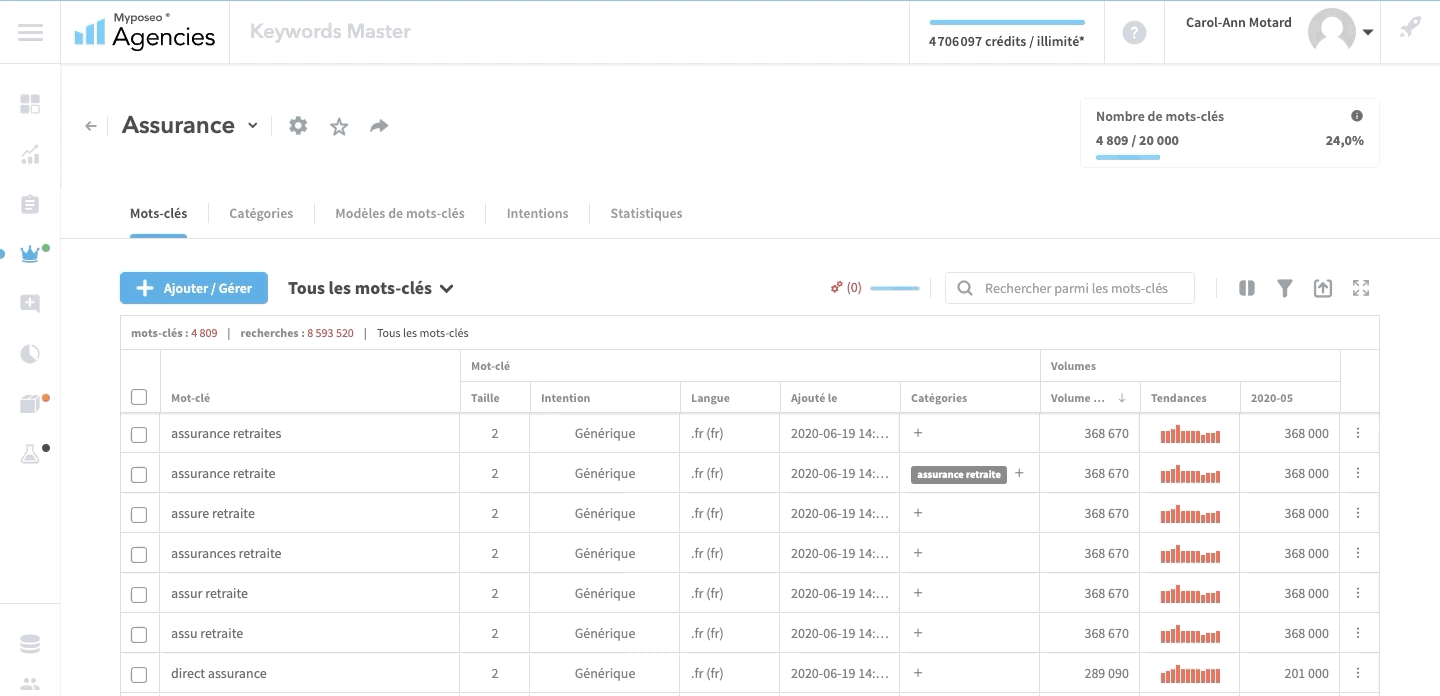 SEO Audit and Monitoring
Once your selection of keywords has been finalised and categorised, you will of course have the option to import it directly into our Visibility Audits or Performance Tracking modules, to analyse your presence and/or that of your competitors on the search engine results pages.

Note that all data can be exported in different formats: CSV, Google SpreadSheet etc.
Happy Using!

Go to your account now to start using the Keyword Master. We hope you like it and look forward to hearing from you!

Feel free to share your feedback and impressions with the team.

Marketing manager @myposeo, community manager and writer.