In case you've been living under a rock (or just didn't read our SEO Weekly News Update) you've definitely heard and witnessed the upheaval in the SEO community as a result of Google's new Featured Snippet update.
It's all everyone's been talking about…for real: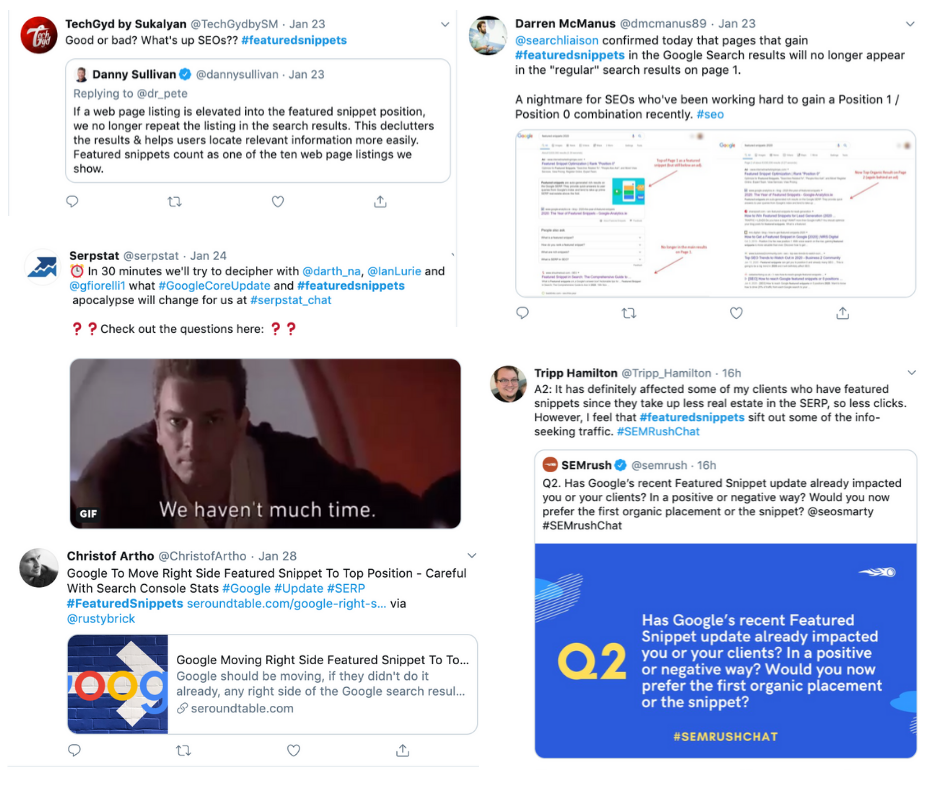 But what is this update and how can Myposeo help you? Let's all take a deep breath, and dive in:
What are Featured Snippets?

Featured Snippets are search results selected by Google that are generally featured at the top of the Search Engine Results Page (SERP), on top of Google's organic results but below the Paid Ads block.
Featured Snippets aim to provide users with immediate answers to questions they type in the search bar by being immediately visible and accurately answering questions, improving user experience and satisfaction on the search engine.
Why are Featured Snippets important?

For users, Featured Snippets provide a quick and easy answer to their questions and reduce the time taken to search for an accurate answer by scrolling down the SERPs.
For websites, brands, e-commerces and businesses in general, Featured Snippets give them the opportunity for higher online visibility, awareness and chances of higher click through rates. Search Engine Land claims that Featured Snippets receive around 8% of all clicks.
What is the Featured Snippet Update?
It was not uncommon to see web pages that appeared in a Featured Snippet position twice on page 1 as seen below: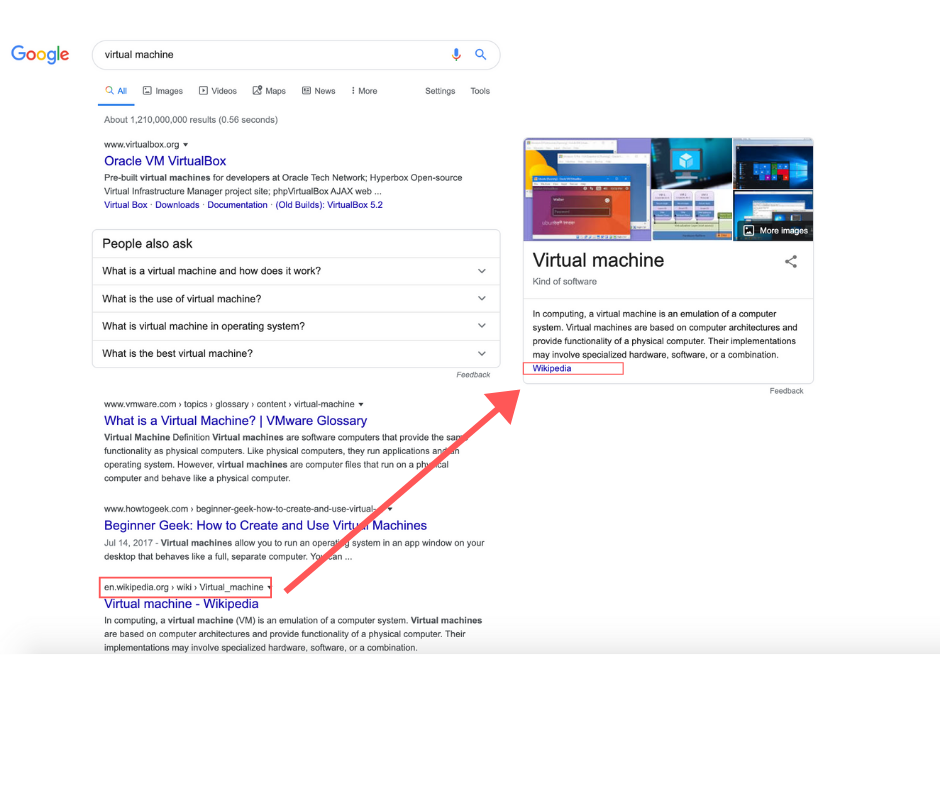 The Featured Snippet update that rolled out on January 23rd, 2020 will now only give web pages one opportunity to appear on Page 1, either in a Featured Snippet position, or in an Organic Listing.
While this update may seem like just a small change, it is quite serious for SEOs as this will greatly reduce websites' visibility on search engines and the opportunity to secure higher clicks.
Impact of Featured Snippet Update

While the impact of this update remains unknown, SEO experts are trying to provide as much information as they can about to keep website owners informed.
We do know that the update will globally affect organic rankings and Page 1 rankings, as mentioned by ROAST in their latest article detailing the update.
It is evident as well that the update will have an impact on online visibility and CTR.
1. Featured Snippet Update's Impact on Visibility
Appearing as a Featured Snippet meant Google rated your content the best for answering a particular question or providing a solution to a problem that users had. All eyes would first be attracted to the Featured Snippet before scrolling down the results page.
By being able to appear on both, the Featured Snippet area as well as in an organic block, the chances of users clicking thu to your site were much higher, as will be explained below.
The update will now only let your site appear once, either as a Featured Snippet or as an Organic Listing on Page 1 which will affect your online visibility. On the bright side, you can still be listed in the Organic Block…just on Page 2 or worse.
2. Featured Snippet Update's Impact on CTR

The CTR for Featured Snippets is only 8% according to Search Engine Land but the CTR for organic results is 31.7% according to Backlinko.
This means that if you appeared on a Featured Snippet, the chancer were still higher that users would click thru to your site when they went past the organic listings. With web pages no longer able to be present on a Featured Snippet as well as an organic listing, chances of click thrus are greatly reduced.
How do I find out the Impact of the Featured Snippet Update on my site?

Lucky for you, the Myposeo platform tracks and monitors the SERP environment including Featured Snippets, Universal Search, Rich Snippets and much more. Using Myposeo, we believe you can track the impact of this update on your site first-hand, here's how: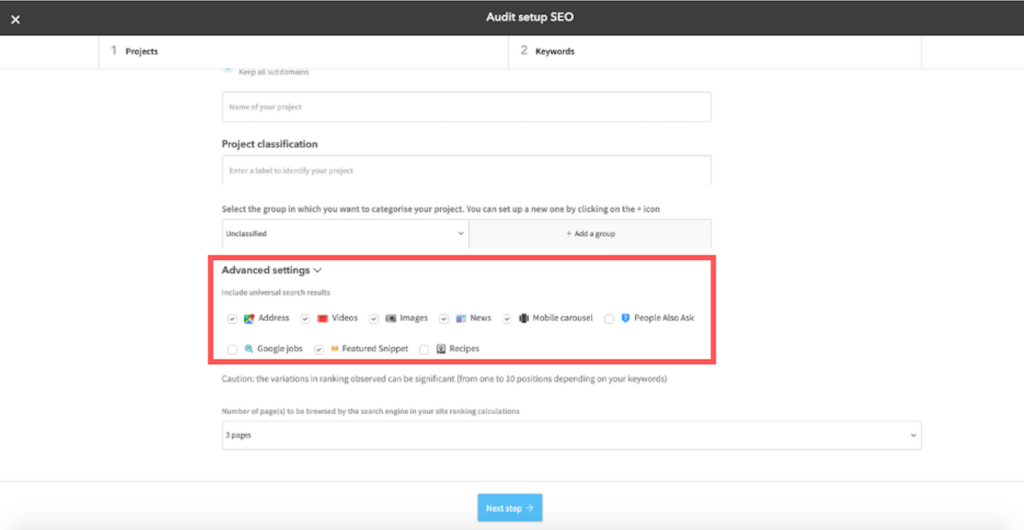 When creating an SEO Visibility Audit or Rank Tracking campaign, you can choose to track these elements on the search engine and get data on it. If you select the Competitive/ Full project option, you will get this data on yours as well as your competitors' sites. They are generally selected by default but you have the option to deselect them (we don't recommend that you do) or select Jobs or Recipes depending on your website.
This is what your results will look like: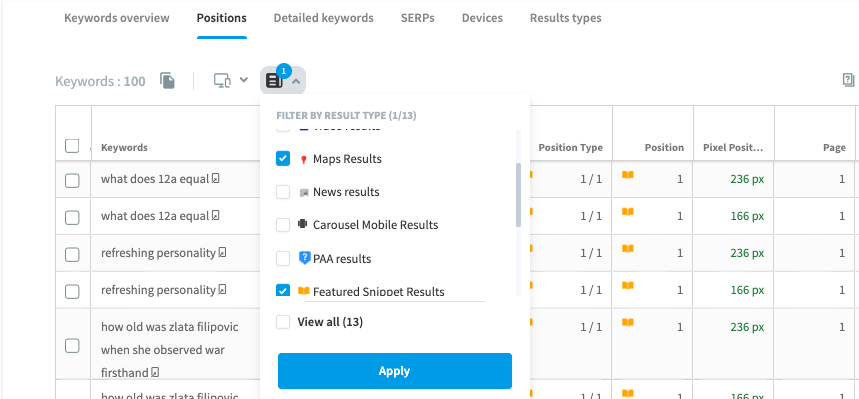 It tells you which position block you're in, the type of position and where your site ranks within the block! The pixel position tells you how many pixels there are between your site's rankings and the top of the page. This is important because while your SEO position may be number 1, your actual position on the results page may be below the fold and your visibility is not as good as you think it is. Find out more about Pixel Ranking here.
You can even filter through the list!


What Myposeo has noticed.

Using our platform, we have noticed that URL A is ranked in Position 1 for a Featured Snippet and URL B from the same domain, is ranked in Position 2 but in Organic Listings. Here's an example from the French search engine: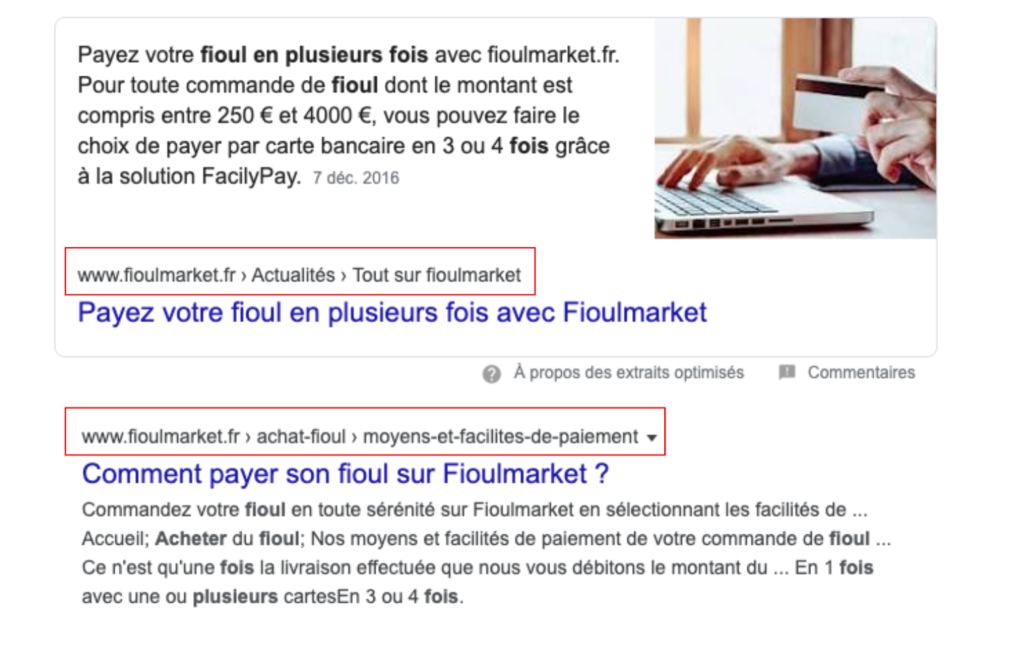 What does this mean: 2 different URLs from the same domain can rank on page 1 for the same search query, which means that this update is not increasing competition amongst SEOs to fight for more visibility because the update is not, in fact, creating opportunities for other sites to rank organically.
Start your Free Trial for the Myposeo platform today and track the impact of the Featured Snippet Update on your site!

Marketing Assistant UK @myposeo