It's a new year begins and we booked you many news for 2015!
To begin this new year, myposeo launches its new 3.9 update. We are always worried about requests of our users and we hope that these new features shall answer quite all your expectations.
This version affects mainly the SEO tracking tool that is still evolving in order to give you indicators to better understand the movements of your site and your competitor in SERPs.
Let's do a tour of the 3.9 update new features :
1- A new SERPs tab
First change of the 3.9 version is a new "SERP" tab that will allows you to better understand the keyword environment taking into account its position, number of Adwords, number of universal results…

Now, it's possible for you to have informations about the page composition. In other words to know the numbers of result types composing the page.
Get for example, the number of images, the number of visible videos in SERPs for a keyword. We also collect the results presence such as News, Knowledge Graph and also the page total height in pixel.
In the example below, for the keyword "juillet", the first page of Google is composed of 4 images and page height is 1846 pixels.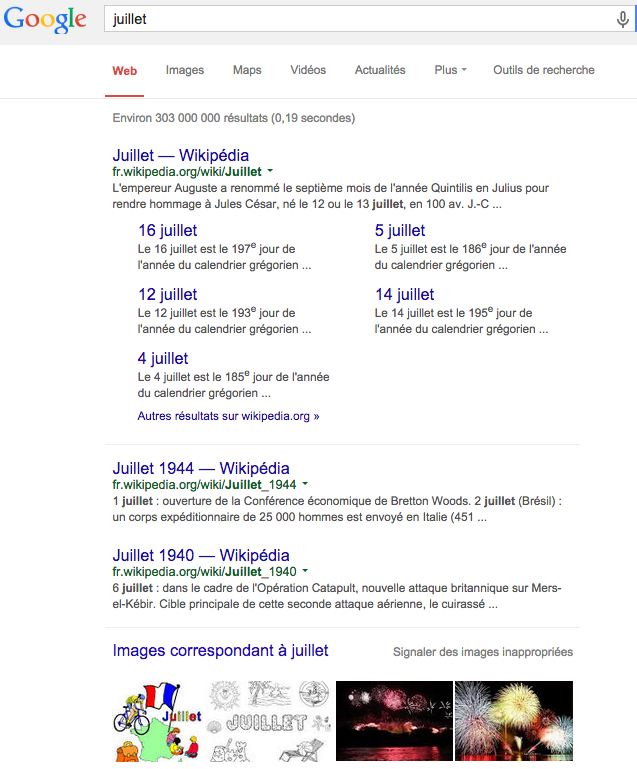 We display all SEO related data (images/videos/news) but also SEA (up/right/bottom). Note these data are hidden by default, but you can view them in the right hand column.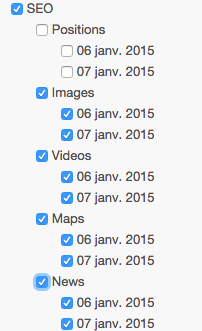 This new "SERPs" tab will allow you to analyse the page composition on which your site is:
To find ranking opportunities in Universal Search

To understand why your site is less clicked on some types of keywords (presence of knowledge results for example)
2- Physical position
The surface of a search engine result page is occupied on average by 10 SEO results. To this can be added images, videos, maps and of course Adwords block. Therefore, these thematic blocks shift natural results down.
Sometimes you are first but below the long tail so you become less visible. Go under this tail cause some natural fall traffic. It is essential to know its physical position.
This is the great novelty of this v3.9 update!
Now you can know the distance in pixels between the top of the page (search bar) and your website position on the keyword. This new indicator is unique in the world and let's you know whether or not you are visible on the first page.
With this new feature you can control the pixel height of your results on the first page of Google and analyse the occupied area by ads. You will also be able to take into account the thematics blocks.
For this "physical position " , click to the "Keywords"tab and go on the right hand column.

3- Add view "Competitors"
Users following competitors on their keywords will be surprised to now see a new "Competitors" tab which has been added to the browsing bar.
You can in one click compare performance indicators between your site and your competitors.
Soon…
In 2015, the updates of the myposeo tool are growing. Soon, a new interface will allow you to customise your dashboards by choosing your KPIs, graphical format from our library, layout and size of blocks allowing you to fully adapt yourselves to the various problems of your customers.
This module is already available for large accounts in support but do not hesitate to contact us if you want more informations!
We wish you a happy new year, we remain at your service hope that you will enjoy these modifications.
Marketing manager @myposeo, community manager and writer.