Myposeo has now been developing on the analysis tool, natural reference tracking and sponsored links markets for more than 6 years. From a start-up of 4 people, we have grown to 10, constantly innovating to offer unique functions and tools that are more and more interesting. Our first SEO tool integrating Google Analytics came in 2010, and our first tool for analysing the French market in 2012 with SEMvisu (it's been 4 years!). We've come a long way, to the point where we now serve 2,000 users.
Today, we're turning a new page, and we are very proud and pleased to unveil to you the new face of the Myposeo tool and company, as well as its new identity to support our growth and ambitions. Welcome to Myposeo Pro! Since our launch in 2010, the Myposeo tools have constantly evolved to better respond to SEO issues. We have spent several months working on a new interface, a new graphic identity that will allow you to put forward new offers in the near future.
This update is accompanied by new, very important functions which we will introduce to you: a detailed SEO tracker, new synchronisation tools for Google Analytics and Search Console, and an intuitive and powerful key-word suggestion tool.
Here's the new Myposeo charter.
Myposeo, PRO version
Not all SEO managers, traffic managers or marketing directors have the same needs in terms of analysis and tracking. Equally, they do not all have the same level of expertise. This is why we have decided to re-name our current offer "Pro". This is extremely comprehensive and can make itself more complex according to the dozens of indicators and complementary tools used. It has significant capabilities in reporting and in the volume of data tracked and processed.
New offers will shortly be put forward to allow us to adapt to all needs. That's why we've called this offer Pro.

A new interface and modified navigation
Graphic redesign of the menu and tools
The biggest change in this update is the menu, which from now on will be situated at the top of the page. We have effectively deleted the left sidebar, which allows a larger and more ergonomic workspace.
From now on, you will find all tools by clicking on the menu icon which can be found at the top left, next to the Myposeo logo.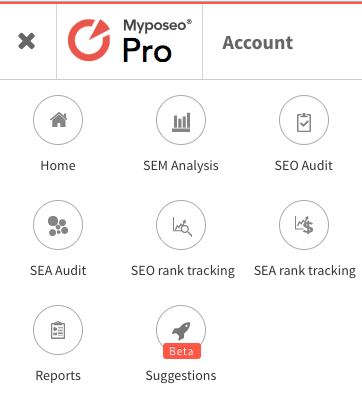 The name of the tool you are working in is displayed in the menu bar.
In order to help you find information, tips and other uses, you will now have direct access to all help sources to get familiar with the tool.
In addition to technical support, all our webinars and presentation videos, and news shared on our blog, you can also find tips and other uses, and updates for the tools.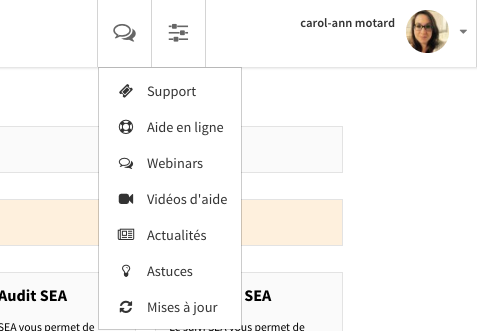 More space to navigate and work
In order to clear your view and give you a better navigation experience, the menu previously situated on the left has been moved to the top of the page. The colours match the new charter but their functions stay the same! Here is an overview of the new tool charter: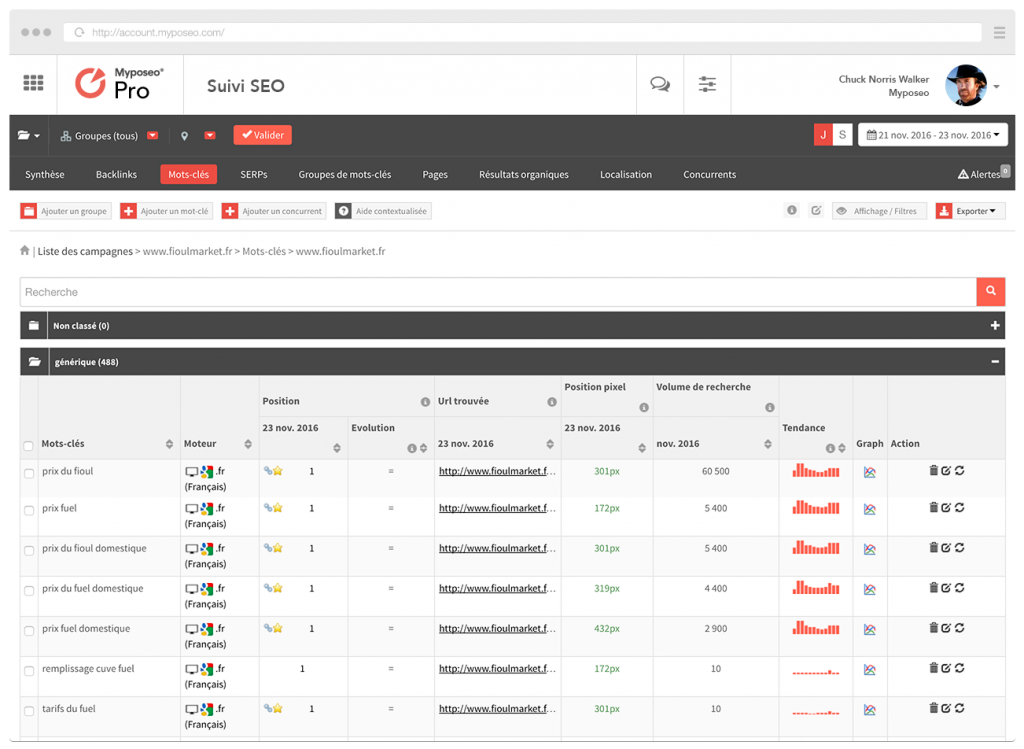 Evolution of the Myposeo logo since 2010
2010: first logo
The first logo showed a target with a baseline "search engine position everyday".

2014: update, maintaining the colours
A spring clean during a major update of our website, to better respond to the design code of the time.

2016: new charter, new logo, new font
The logo has been refined with a change of colour and typography. A variation of the logo has been created for the Pro tool and will be retained for future tools to come. But that's all we'll say for today 🙂

Acknowledgements
We would like to thank all our team members (developers, marketing, project management) who have contributed and continue to contribute to the success of Myposeo since its launch. This change of identity reflects the experience that we have accumulated over recent years, allowing us to put forward tools that are more and more powerful and practical. We hope you will like it.
Thanks also to the great design studio Source Interactive, who supported us in this project.
Marketing manager @myposeo, community manager and writer.