Technical optimisation of a website is your SEO's first lever. Google will read the content of your pages with its robot and it is important to let it know the main things you want it to take into account (titles, descriptions, links, etc.) but also that all of this is accessible simply and quickly.
We refer to "OnSite" analysis when we analyse the website internal technical criteria and "OnPage" when it is criteria for a particular website page. It is very important to follow several guidelines:
presence and organisation of html and meta tags
load times
links between pages
images naming
etc.
Although the Google Search Console is the first way to understand how your website is seen and indexed by Google, there are others tools providing other essential information for Onsite and Onpage optimisation.
myposeo offers you a non-exhaustive list of FREE tools available for analysing the Onsite criteria and internal backlinks of your website. Follow the guide.
1- Xenu's Link Sleuth
Xenu is free software to install (only under Windows) that allows crawling (reading) your website. This tool will check and detect errors on your pages using a robot of the same type as Google's.
It will read the entire contents of the website and scan all file types (images, website pages, external links, JavaScripts files etc.).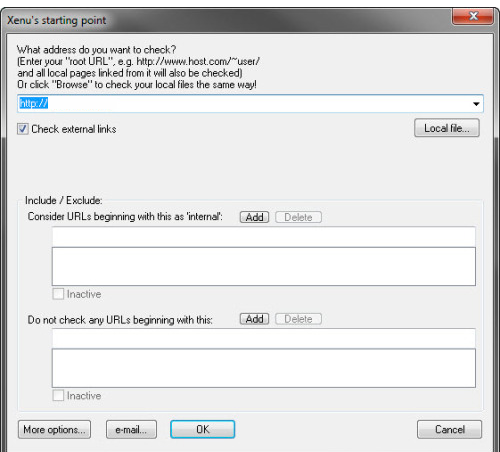 Once the analysis is complete, Xenu provides a detailed report of a URL list. It lists all the errors the robot finds while exploring ans where they come from.
Here are the main errors that will display:
404 error
301 redirection
302 redirection
Load times too long
Server temporarily unavailable
Duplicate content
Non-existent domain name, etc.
This software allows you to check all your website pages and then to correct/improve their structure.
2- Integrity: analysis of internal and external links
Integrity is a free application (for Mac this time) which can be Xenu equivalent and allows you to check whether the website links work correctly. It easily finds dead links.
Integrity is easy to use: simply enter the website URL and click on GO. The robot begins to test all the links its finds.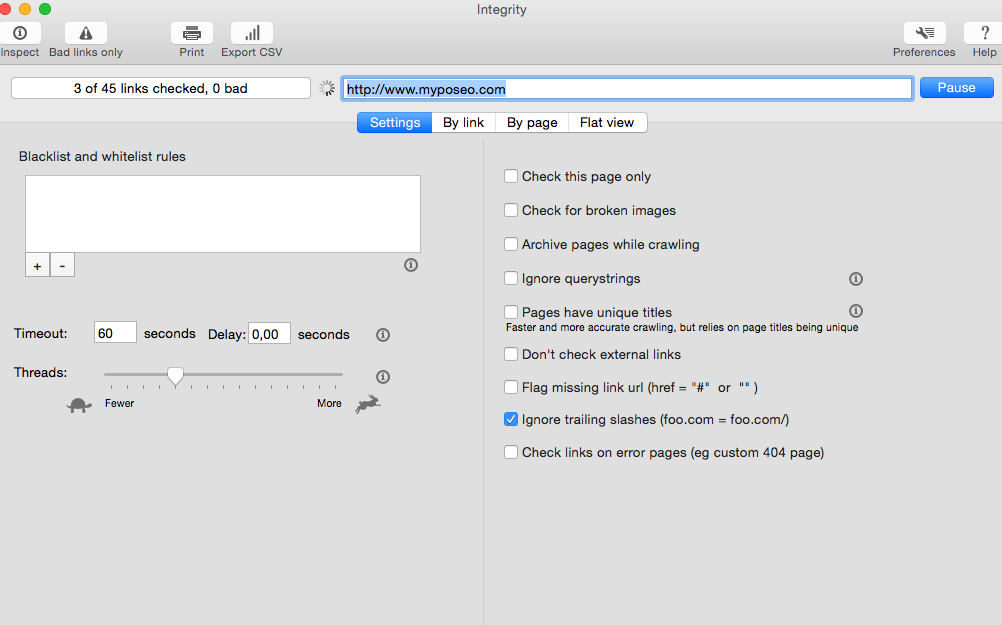 Once the analysis is complete, the tool will perform a detailed scan of the website and supply a report on any broken links and possible problems (just click on the link for more information).
The Integrity interface is intuitive. With a single glance you can see the correct links or broken links.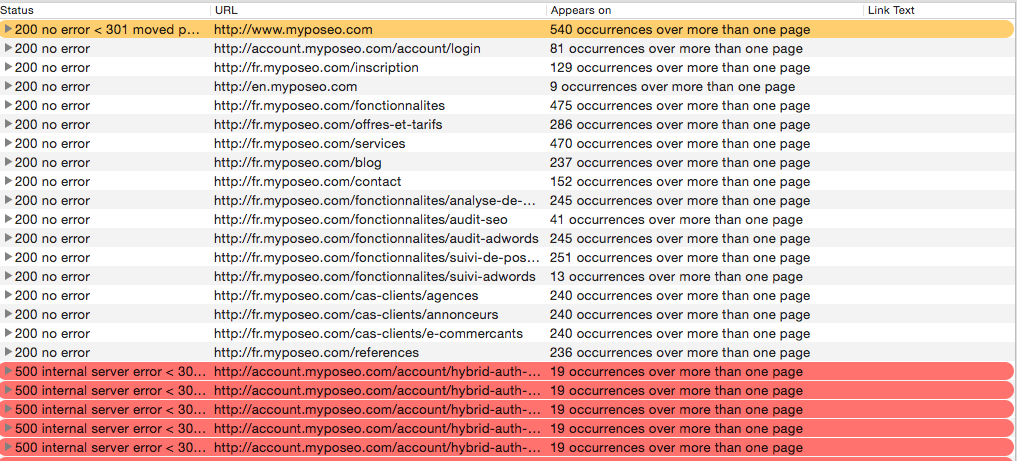 Note: this application also allows you to select from various options (check external links, check this page only, etc.)
3- Screaming Frog SEO spider: the ultimate tool
Screaming Frog is a program that can be installed on a PC, Mac or Linux. This software goes further than previous solutions because it can identify, analyse important characteristics of a page for SEO, besides netlinking pages. It is intended for the global SEO optimisation of your website.
To use Screaming Frog, enter the address of the website to be analysed in the "enter url to spider"field.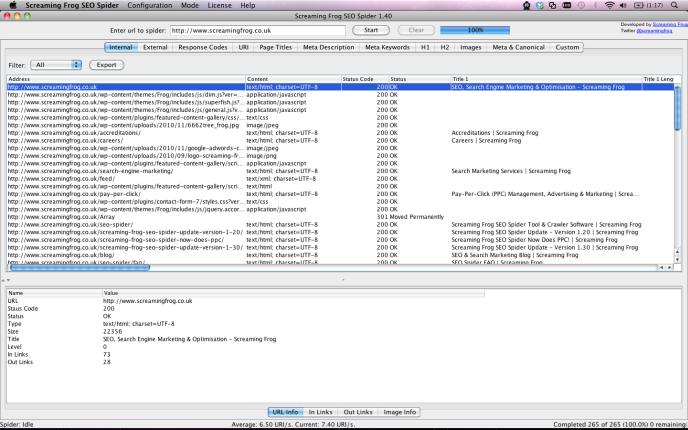 Once the analysis is complete, you can identify the basics techniques (HTML tags, URL structures, etc.) for SEO optimisation using a simple interface. Screaming Frog helps you to find ways to improve your website visibility in search engines. The standard version is completely FREE but limited to the analysis of 500 URLs. Then there is a paid version.
Conclusion: use craw simulation tools
Simulated reading of your website by a robot is very important and will allow you to find numerous optimisation tracks. You need to find the tool that seems most suited to your needs. Learn more about building an effective internal linking strategy here.
If you want to simplify your OnSite or OnPage analysis further, you can also use paid tools. If you use other tools, please let us know!
Marketing manager @myposeo, community manager and writer.