As an SEO specialist, you must follow the evolution of your site to ensure you of its good progress.
Myposeo offers you a list of free and / or paid tools that you can check that your SEO optimization works.
Tools for tracking and optimizing of technical criteria
The tools for the follow-up of technical criteria allow to analyze the Onsite elements and the internal netlinking of your site.
GTMETRIX
Gtmetrixis an online SEO tool (SaaS) allowing to analyze the loading speed of a website and to identify the elements to be optimized. To do this, you must copy and paste the URL of your website on GT metrix. This will then be subjected to an analysis which will lead to the generation of an exportable and detailed report concerning all the optimizations already made, but also to propose new ones to you. A score will be assigned to your site, the speed grade page, accompanied by technical advice to put in place to improve performance.
FASTERIZE
Fasterize is an online SEO tool for accelerating websites also called FEO ( Frond End Optimization) to reduce pages loading times and fluidify their display time. In principle, this SEO is positioned as a proxy between Internet user'sbrowsers and web servers, modifying the HTML code of pages to optimize then during loading.
ONCRAWL
OnCrawl is an tool dedicated to SEO audits and to website's performance monitoring. The SEO crawler and log analyzer provides comprehensive analysis about site architecture and helps to detect errors in the HTML code, link structure and content that can compromise rankings in search engine
.
Tools for monitoring indexion
The tools for index tracking allow you to know the indexing status of each web pages of your site.
Tools for tracking netlinking
The tools for tracking netlinking allow you to know a lot of information about links pointing to your site (backlinks).
Tools for audience analysis
Audience analysis tools allow to measure and analyze your website's traffic.
Content writing and translation tools
The translation and content writing tools allow to provide SEO multilingual content.
Tools for optimization of netlinking and notoriety
The tools for optimizating netlinking and notoriety can boost your popularity on the Web.
Rank tracking tools
The rank tracking tools allow to analyze the keywords on which your site is positioned and to track them daily.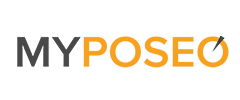 MYPOSEO
Myposeo is an online solution composed of tools allowing to follow daily the evolution of the positioning of its site in naturel (SEO) and paid search engines.