Myposeo, complete tool for e-tailers
Make sure your site generates clicks
Myposeo is a tool that helps you to know your site and your competitors ranking and track your SEM performances in search engines.
Make strategic choices for your SEO & PPC campaigns 
       Google Analytics synchronisation
       Majestic SEO data netlinking
      Automated & customizable dashboard
Pixel ranking        EXCLUSIVE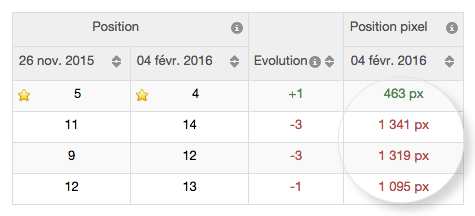 Apart from the competition
Quickly locate the ranking falls 
E-tailers use our SEO tools
CONSULTING AGENCIES
Offer to all your customers a simple and powerful tool for measuring their visibility. Add a white label option and pilot your SEO report with ease.
ADVERTISERS
Track your website's ranking or of your brand on search engines and analyze your competitors by the different sectors you are targeting.
SMALL BUSINESS
Track your blog, website or Google local page ranking at a lower cost. Find out the keywords to use and detect your business competitors.