Migration or redesign a website, why use an SEO rank tracking tool?
When you redesign your website or your e-commerce, you need to pay particular attention to your site's SEO.
Although it is easier to keep the traffic generated by other sources (AdWords, display, social network, emailing), migration or redesign mean it is not always easy to maintain its position in search engines.
We invite you to discover how rank tracking tools can help ensure that your visibility and SEO performance are always present and your listing has not sunk.
Migration, redesign or change of domain name
In a migration of your website to an other server, there is usually only a small risk of a significant fall in SEO ranking. Potentially, the effect is the opposite because this manoeuvring is often done to improve load times or server availability. Nevertheless, it is interesting to monitor its SEO to see the potential gain from migration.
For site redesigns and changes of domain name (NDD), the risk of a loss of ranking is greater, due to the fact that Google will have to re-index all your site, even if you create your references carefully.
Losses in terms of traffic and therefore in terms of business (turnover) can be significant where redesign is concern, so it is essential to monitor your SEO.
Examples of sites migrations:
EDF: migration since July 2015 edf.com to edf.fr (sub-domains and different folders)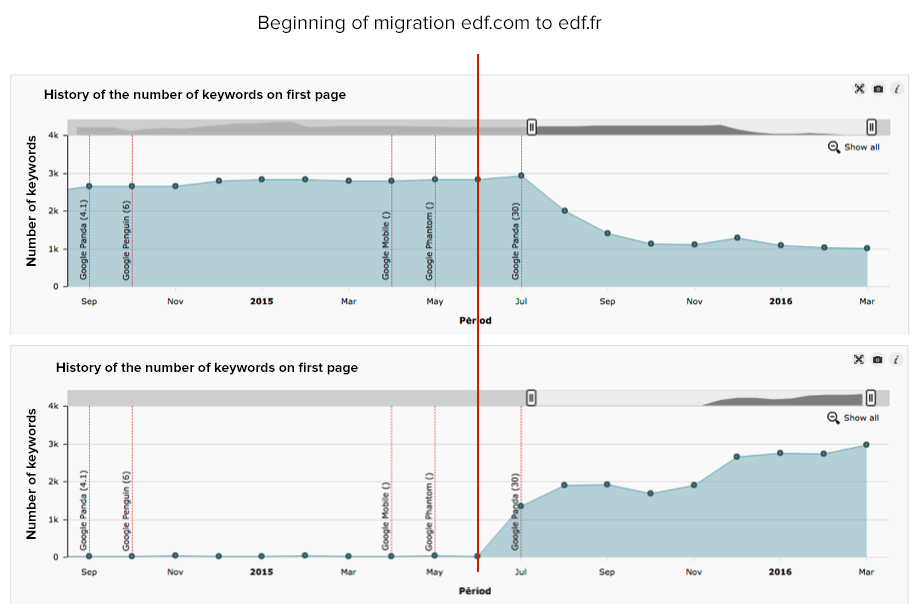 Analysis carried out also of the SEM analysis tool of myposeo. The migration of edf.com to edf.fr is apparently progressive because not all the URLs appear to have changed.
November 2014: migration of the mim.fr domain to mim.com

For the mim.fr domain that wanted to migrate to mim.com, there was apparently a major difference between the number of keywords positioned before and after the migration. This certainly had an impact on SEO, and it seems that the site took some time to return to a number of similar keywords on the first page of Google.
In both cases mentioned above, we can see an overall decline in positioned keywords that allows understanding of the potential variation in traffic.
SEO traffic share (Google Analytics)
To analyse the importance of SEO for your audience, it is essential to know the part that SEO represents with regard to your other levers. Thus, you find today in Google Analytics ("Acquisition" section) for example, the share of traffic represented by the Organic Search (SEO).

In the example above (taken on an e-commerce site), we notice that this one is about 50%, so it is crucial to monitor the asset in terms of positioning to avoid losing the valuable work done throughout the life of the site.
Tracking positions: what volume to monitor?
This depends on your website' current SEO and the volume of keywords on which you already have very good ranking. To check this, you can start by using a market analysis tool.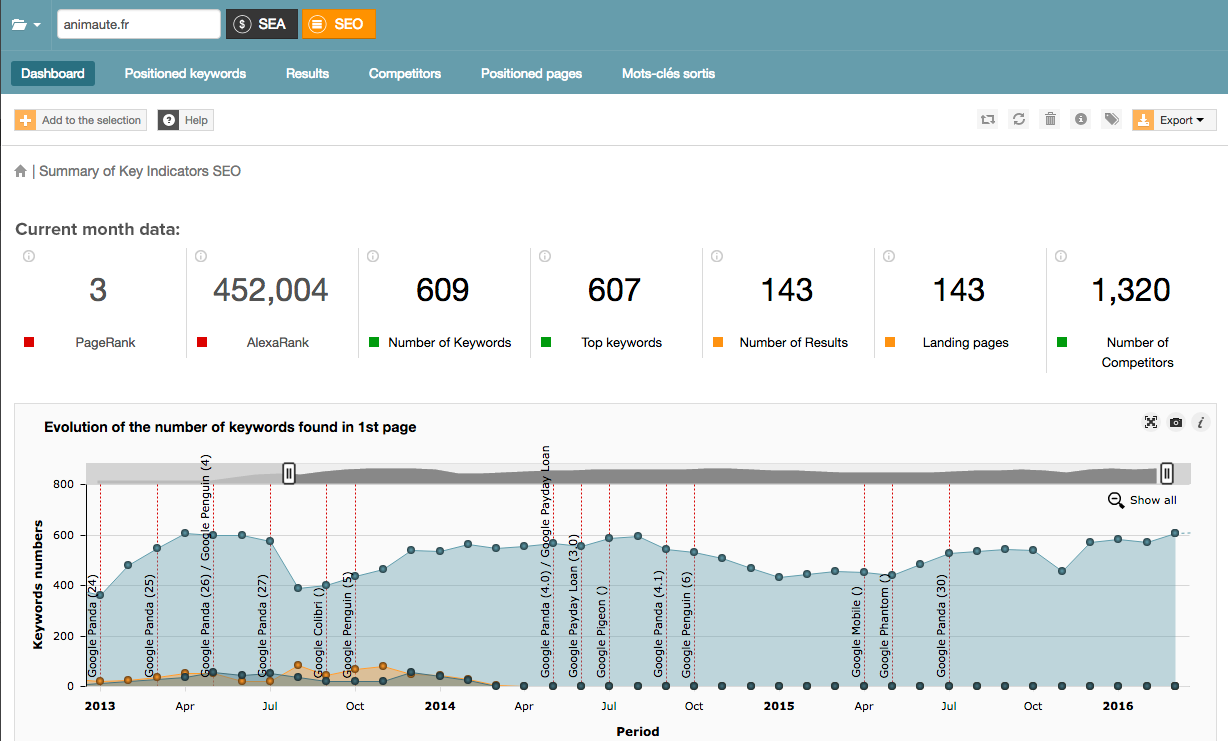 For animaute.fr site (screenshot above) we notice that the current number of keywords on the first page of Google is 609 (on a base of 15 million in the myposeo tool). Monitoring the trend helps to know how SEO evolves and the number of keywords already ranked is a good indicator of volume to follow.
If you have a large number keywords already well ranked, it is important to focus on the essential keywords of your business and generic keywords, without forgetting the traffic generator of keywords.
For this myposeo offers synchronisation with Google Search Console and allows the keywords with clicks and impressions to be known: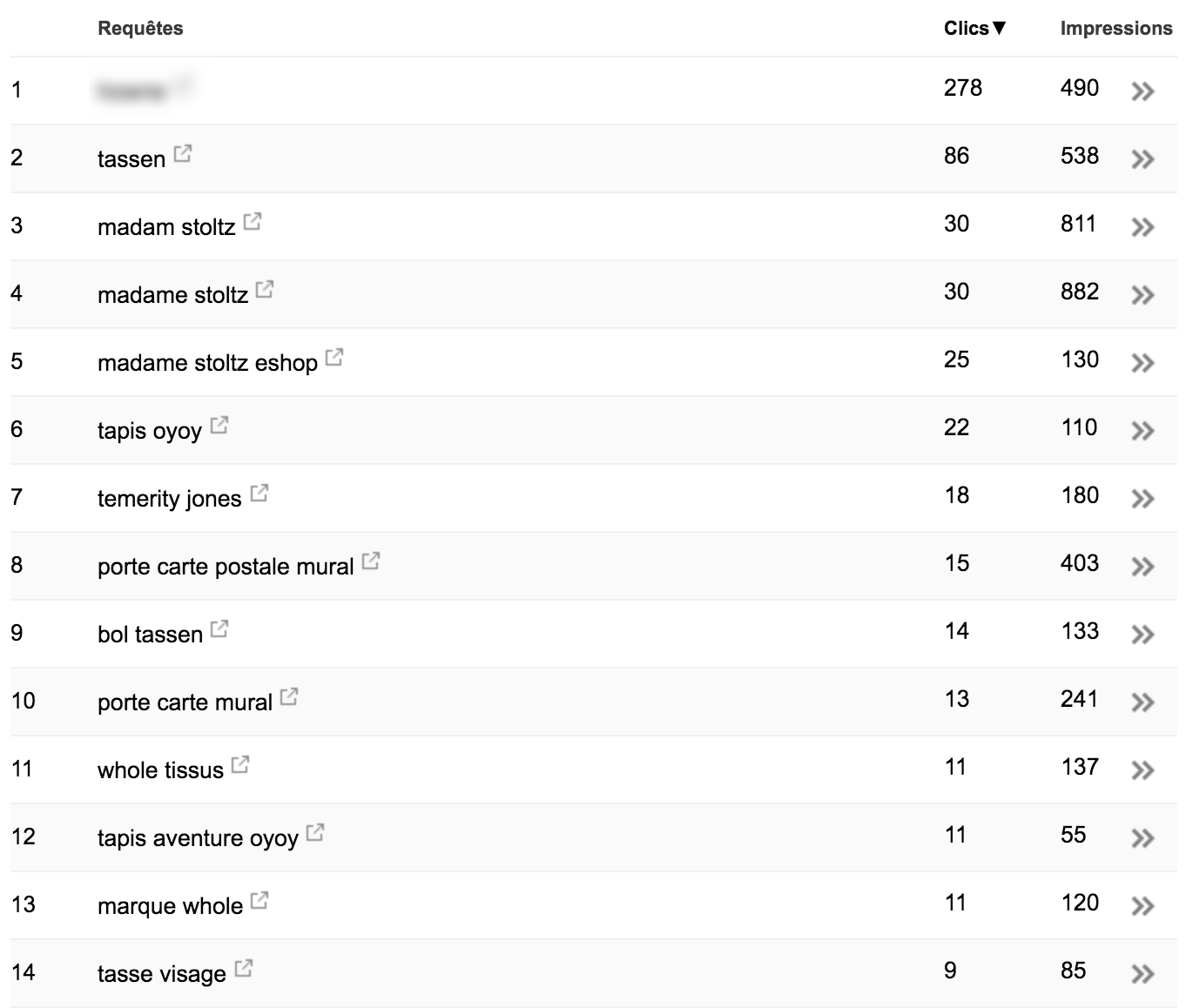 The recovery of these keywords will allow to make a rank tracking to assure you that you preserve well your SEO before and after the redesign or migration of your website, on a representative volume of your current traffic.
SEO rank tracking: when?
We are often asked about the best time to put in place SEO rank tracking and ranking, during redesign or migration. The answer is usually now!
If you already know the dates of migration, you should, ideally, set up tracking 1 or 2 MONTHS before, to observe the ranking's evolution over time, as shown in the example below. Following a migration, the site ranking may fall for an indefinite period before returning to normal (or even grow). That's why the sooner is better!

Monitoring example carried out over 10 pages (400 keywords) and over a period of  2 month before a redesign. If a monitoring had not been done upstream, we might have thought there had been a direct increase in ranking due to the site transformation:

What indicators should we be watching?
There are many indicators to watch during a migration or redesign of a site (indexed pages, redirects errors, positions, traffic etc.) but if we had to single out two for the rank tracking:
SEO positions of top keywords (and possibly the long tail depending on the volume)
Audience (traffic generated search organic)
These two indicators are interesting because a drop in ranking does not always causes a decline in traffic, as shown in the example below.

The average position of the keywords monitored for the site fell in November 2015 but after this date the traffic gradually began to increase, reaching a level 4 to 5 times higher that before!
This example proves that the site redesign was a good thing and that monitored well, this one allows finding the average position on keywords while displaying a rapid multiplication of traffic!
Conclusion
Using a rank tracking tool allows monitoring of the visibility of your site and track SEO performances over time. This is especially indicated during a redesign or migration and allows measurement of the positive or negative impact of the exercise.
The data market must be addressed and equipped as soon as possible to progress, or fail.
If you are not a myposeo user, we invite you to test the tool for 15 days free. If you have experienced problematic migration or redesign, we would welcome your comments