Explore Myposeo Pro features
Search engines audit and monitoring for your SEO and PPC strategy over time, our tools fit your needs.

SEO Analysis

 SEO Audit
A full audit tool on 1 to 10 pages. It allows you to know the composition of search engines results in detail as well as present actors.
SERP Audit
SERP Audit allows you to analyze all present domains in search engines for your keywords.
Keywords
The keywords tab of audit allows you to know number of results, search volume, number of ads or presence of Adwords on your keywords.
Universal search
The distribution of ad type universal search graphic allows you to know the different results (natural, images, videos, news…) appeared on audited keywords.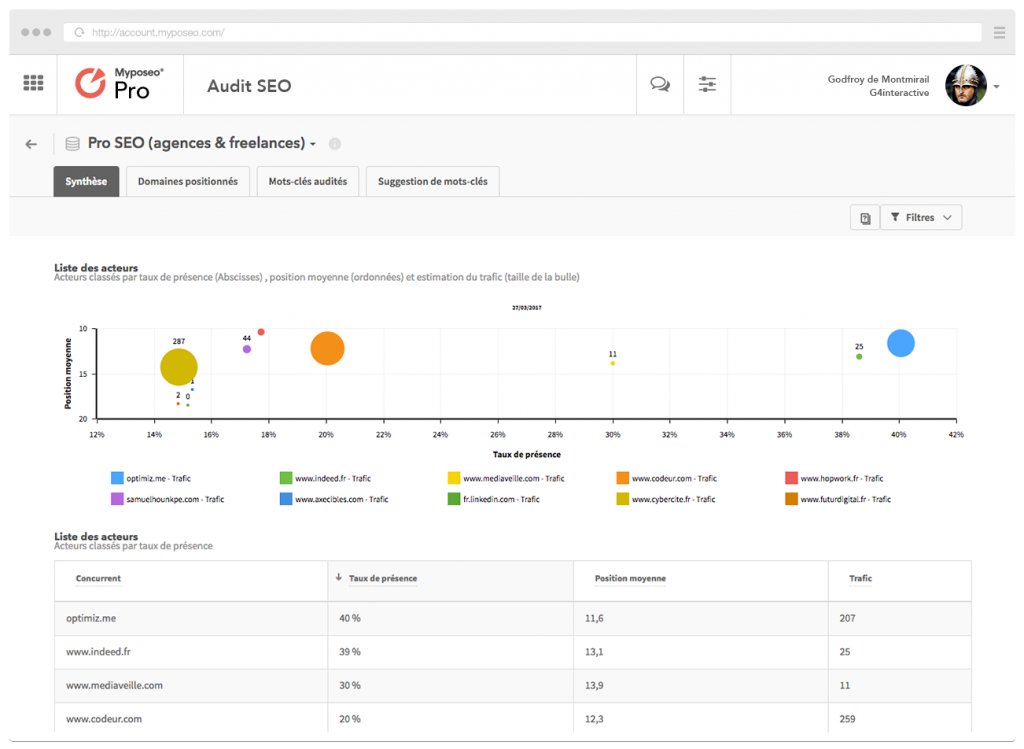 SEA Audit 
A full SEA audit tool in real time to analyze your PPC campaign.
SEA Audit
SEA Audit allows you to analyze PPC campaign on search engines in order to find advertisers and their positions on a selected period of time.
Advertisers Audit 
Once your campaign is completed, you will be able to access domains list and know the advertisers coverage rate, number of ads or their location.
Keywords Audit
For each present actors on your campaign, you will know their keywords, average positions on those or cost per click (CPC).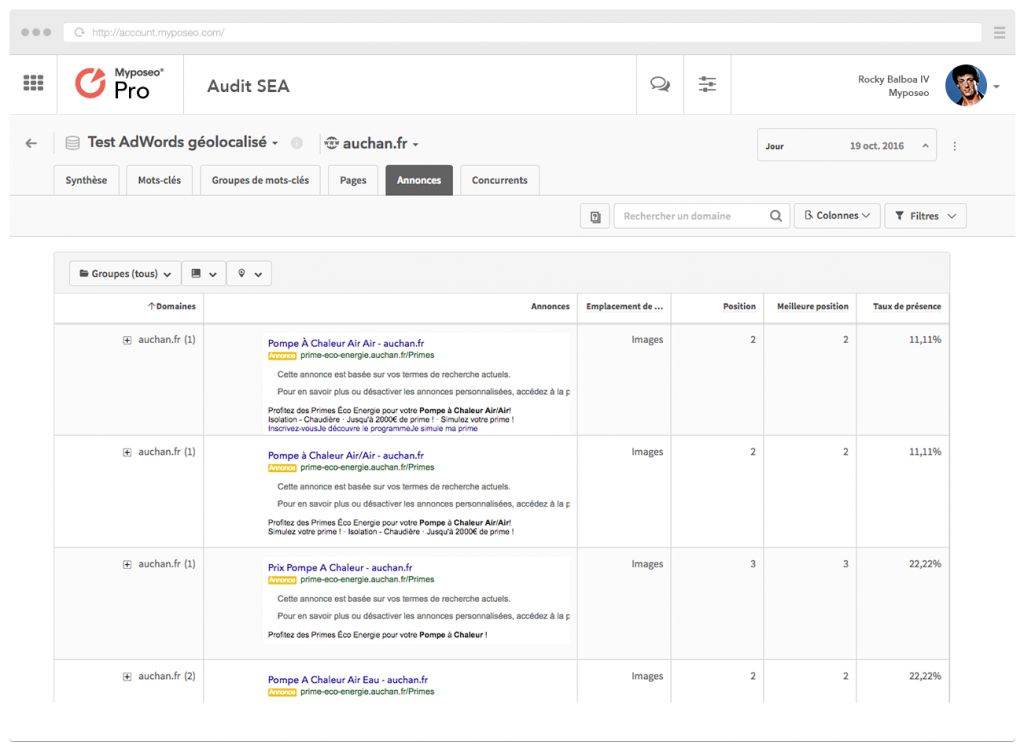 Keywords suggest
Discover hundreds of new expressions linked to your site to develop writing new content and optimization of your SEO.
Launch a search 
Type a keyword or phrase in the dedicated search bar. You can enter several keywords separated by comma.
Filter and Analyze
A list of expressions related to the keyword typed in the search bar is then provided.
You can then filter the list according to your needs.
Select and export
Once your keywords are selected, you will be able to create a list and then export it to the format you want.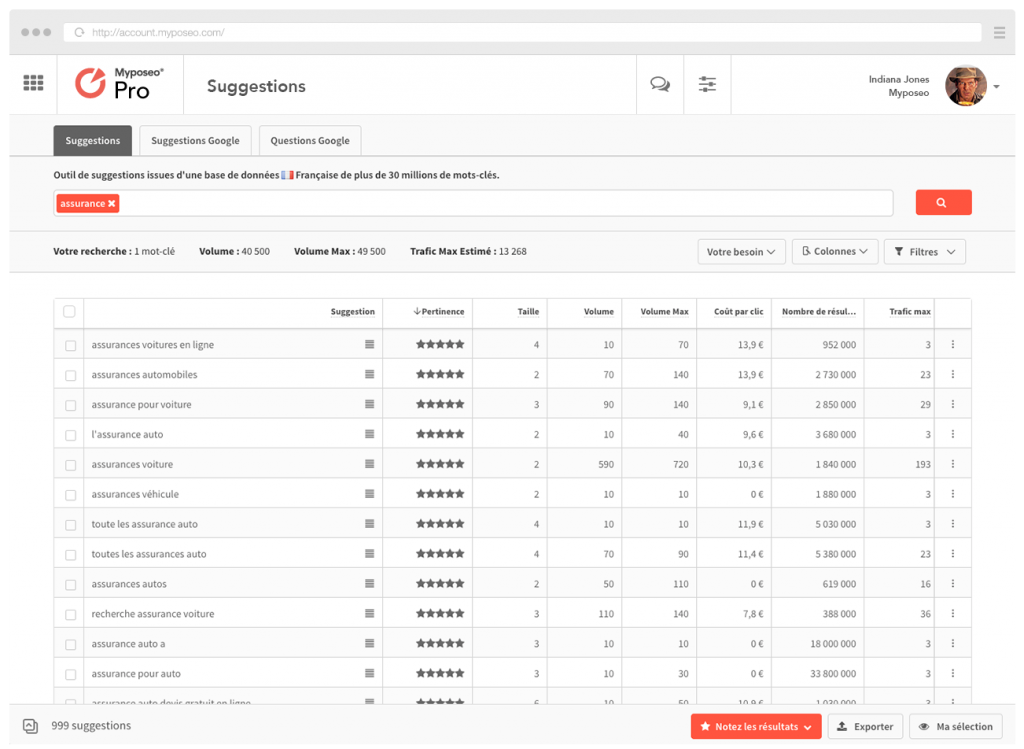 SEO Rank Tracking
Track your website's ranking on a selection of keywords for SEO and PPC strategy.
SEO Rank tracking 
SEO rank tracking allows you to daily monitor your website positions and presence of your websites in organic search engines results.
Tracking of positioned URLs
Tracking of positioned URLs allows you to daily know number of positioned URLs according to your keywords for each of your projects. You can also find an overview of found Ads in SERP.
Alerts
Alerts allow you to be daily informed of inputs, outputs, climbs and descents of your keywords. It is also possible to define positions goals and choose alerts thresholds.

SEA Rank Tracking
An Adwords data collecting unique tool in the world.
Adwords Tracking 
Track your website's ranking on keywords you have selected from Adwords and view independent data from search engines.
Track all your competitors 
We give you competition data that allow you to analyze your ranking by comparison with visible actors on results pages.
Customized collection frequency 
Our technology enables a search engine data collection and display at frequency up to every 5 minutes according to selected parameter: Extensions / Country / City / Terminals.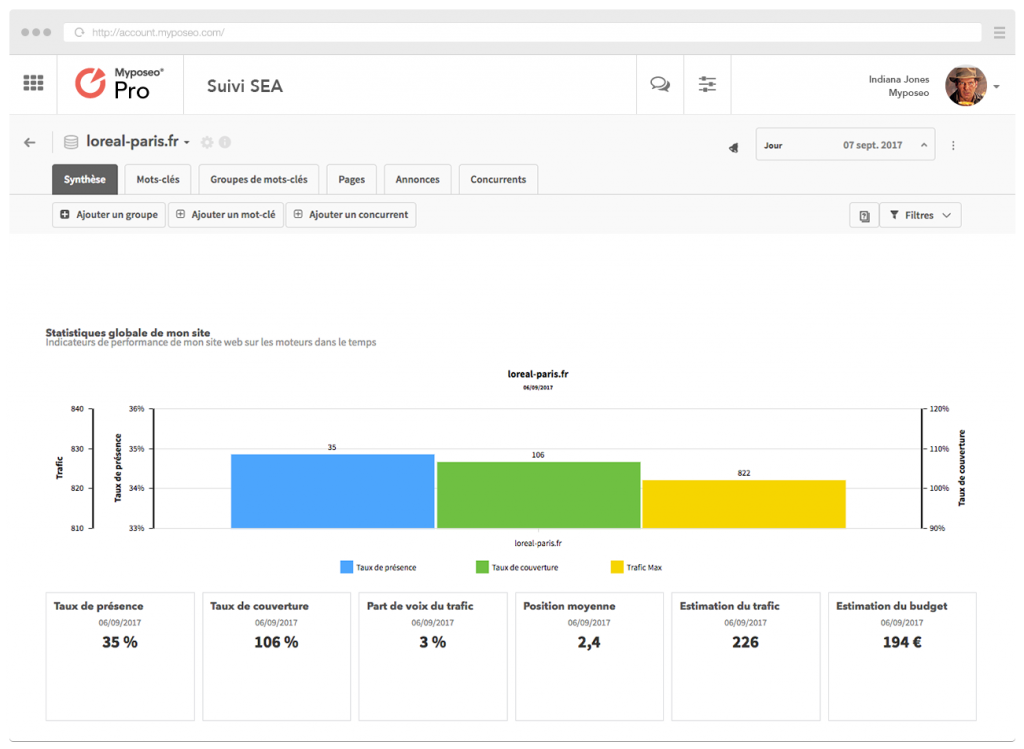 SEO reports
Create and customize your custom reports to pilot your SEO/SEA performances.
Choice of graphics and visualization
Choose from over 150 performance indicators and customized data-visualisation of your SEO visibility data.
Multi-projects
Pair your Market data, Audit and Track into online unique reports.
Drag / drop / custom
Create your blocks and lines to customize your performance and visibility reports.