Myposeo, complete tool for advertisers
Make sure to be in front of your competitor in Google
Myposeo is a tool for SEO tracking and analyzing. It is adapted to supervision problems of brand and to pilot SEO & SEA advertisers strategies.
Knowing the visibility of your site and your competitors in Google
Track the evolution of your visibility

Easily track the ranking evolution of your keywords  and their daily visibility in search engines
Get and overview of your visibility
Create your customised dashboard of ranking to pour observe the evolution of your visibility in search engines
       Majestic SEO data netlinking
       Google Analytics synchronisation
      Automated & customizable dashboard
    Users and administrator access
Pixel ranking        EXCLUSIVE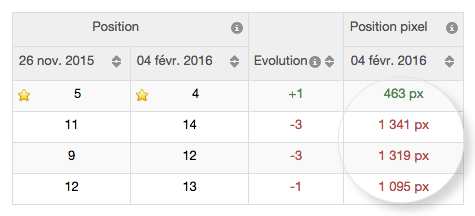 They use myposeo for piloting their SEM strategy


CONSULTING AGENCIES
Offer to all your customers a simple and powerful tool for measuring visibility. Add a white label option and pilot your SEO report with ease.
SMALL BUSINESS
Track your blog, website or Google local page ranking at a lower cost. Find out the keywords to use and detect your business competitors.
E-TAILERS
Analyze and track the keywords that generate sales for your website. You can optimize your SEO strategy and pilot your search marketing budgets.